Patient Stories
Jan 20, 2021
The second dose: Checking in with those who got the COVID-19 vaccine
---
It's hard to believe a month has passed since Children's Wisconsin staff started to receive their first doses of the COVID-19 vaccine. Last week, that first wave of providers and care staff were back to get their second doses. We wanted to check back in with some of them to see how they were feeling, if they experienced any side-effects and if they had any insights they'd like to share.
At Children's Wisconsin, the vaccine roll-out has been going smoothly. To date, more than 3,700 doctors, nurses, therapists, social workers and other frontline care staff have received their first dose of the vaccine and nearly 2,000 have received the second dose. While some have experienced mild side-effects, Children's has not had any reports of people they vaccinated who weren't able to return to work and care for patients.
"We have continued to receive high praise from the community partners we are vaccinating, as well as our partners on campus and our own staff and providers," said Stacey Collins, BBA, BSN, RN, CPN, manager, Employee Health and Wellness at Children's Wisconsin. "We are so grateful to everyone who has supported this process, from those involved in the strategic planning to those staffing each clinic day."
Gwen Lea, RN, coordinator, Sickle Cell Clinic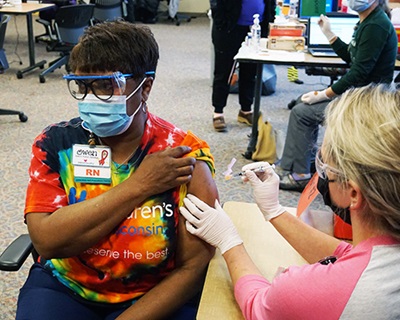 It is almost like a sense of relief, knowing that I am now done. I am feeling great. I continue to feel that it was the right thing to do and the best thing to do if we eventually want to get back to a "normal" life. I didn't experience any significant side-effects. The only thing I can say is that after the second dose, my arm was pretty uncomfortable for a couple of days. But nothing that kept me from carrying on with my daily activities.
I have had mixed reactions from people, but most of them have been positive. The majority have said if they see that I am doing okay, they will think seriously about getting the vaccine. Others are still somewhat skeptical, either because of how fast it was produced, thinking that African Americans are still being experimented on or thinking the virus is actually in the vaccine. What I have been saying and will continue to say is that I trust the science and the people who made it. They have been making vaccines for years. I encourage them to think about what is safer, getting COVID-19 and risk dying or getting the vaccine, which has been proven to be safe and effective. To those individuals that know me well, I have been telling them you know I would not have gotten the vaccine if I did not think it was safe. 
Wilma Santiago, supervisor, Urgent Care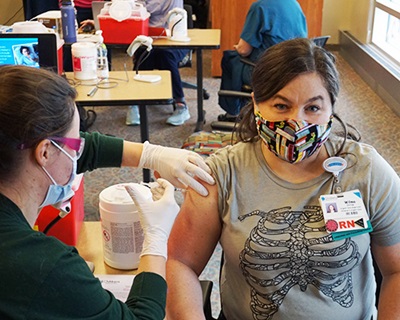 I am so thankful to have been vaccinated and feel privileged that we've been given this opportunity. Fortunately, I did not experience any of side effects post vaccination, other than arm soreness at the site of injection. I know some of my colleagues did not have the same experience and did experience some minor side effects, but they are still thankful to have been vaccinated.
People have shared in my excitement when I've told them I received the vaccine. My parents and husband, especially, are thankful that I've had the opportunity to be vaccinated since I work on the frontlines in health care. My children also were excited for me because they hope this means we are one step closer to resuming life as we once knew it. For people who are hesitant and unsure if they want to be vaccinated — first I would say that's okay. I started out hesitant, too. I would suggest they do their research, read evidence-based material and peer-reviewed articles and speak to their health care provider. They just need to look at reputable sources for information.
Jorge Ramallo, MD, urgent care physician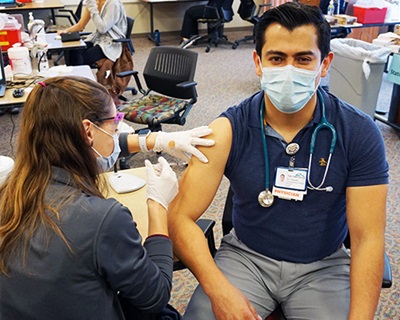 I am feeling great and am thankful for having received the vaccine and excited for everyone to get it as soon as possible. I only had some arm soreness that lasted less than one day with each dose — no other significant side effects.
My family and friends have been extremely happy and supportive. My parents almost cried when they learned I would be receiving the vaccine because it gave them a bit more reassurance that their son would be okay while helping people in need. Being vaccinated also allows me to provide my own personal experience while I'm counseling patients about the vaccine and why it is important.
The long-term health consequences of COVID-19 are still being uncovered. In addition to my work at Children's Wisconsin urgent care clinics, I am also a primary care provider at the 16th Street Community Health Clinic where I see kids and adults. Particularly in my adult patients, I have seen people continue to have health problems several months after their initial infection, including shortness of breath, cough, fatigue and loss of smell and taste. Some people forget to take this fact into consideration and overemphasize the potential risks related to this vaccine. I think the balance of risk verses benefits strongly suggests everyone get vaccinated as soon as possible, not only for yourself but for your community!