Patient Stories
Apr 05, 2018
How the March of Dimes helps NICU families
---
Children's Wisconsin is proud to have the only Neonatal Intensive Care Unit (NICU) in the state that partners with the March of Dimes to have a dedicated family support program coordinator (such as myself) to help families during their time here. Our March of Dimes NICU Family Support Program offers core curriculum education classes, social support, events, and bedside education to help families through this difficult time.
When you hear personal stories from families in our NICU, you can really start to understand the level of care and support the March of Dimes NICU Family Support Program provides. I encourage you to read this story from Nicole and Ben about their experience in our NICU with their son, Mason.
Mason's story
On January 22, 2018, our son was born nearly ten weeks early. We delivered in Green Bay, but due to potential heart defects, Mason was transferred to Children's Wisconsin in Milwaukee that same day. My husband made the trip with Mason in the ambulance while I stayed at the delivery hospital to recover from surgery. Fortunately, I was released the following day to reunite with my husband and son.
We were told that Mason would be in the NICU in Milwaukee for at least 8 to ten weeks, or until he was healthy and strong enough to go home. Although far from home, we knew Mason would receive the best care possible. Over the next few days, the realization that we live more than two hours away from the NICU while spending countless hours in Mason's hospital room had started to sink in. However, we were blessed to be able to stay at the Ronald McDonald House just across the street from the hospital, which provided us with a comfortable room and home-cooked meals. This allowed us to focus entirely on our son.
Another blessing has been the March of Dimes NICU Family Support Program, which is managed by Angie Biersach, NICU family support program coordinator. Mason is our first child, so not only are we new parents, we were quickly thrown into a medical world that was new to us.
The support in the NICU learning center and at the bedside became a key resource for us. The classes, learning tools, and handouts were highly relevant to many of the issues we faced. These resources range from helpful coping tips to educational booklets on what families may experience while in the NICU — complete with a medical term glossary. We also found a lot of support and value in using the new My NICU Baby™ app by March of Dimes that is complimentary for families or staff (downloadable at the iTunes App Store or the Google Play Store).
However, the March of Dimes NICU Family Support Program provided more than educational materials — it gave us emotional support. From providing networking opportunities with other NICU families to organizing arts and crafts and everything in between, Angie has been such a great resource and overall supporter. While having a baby in the NICU is never easy, the March of Dimes Family Support Program truly helped us throughout our journey.
Join the March for Babies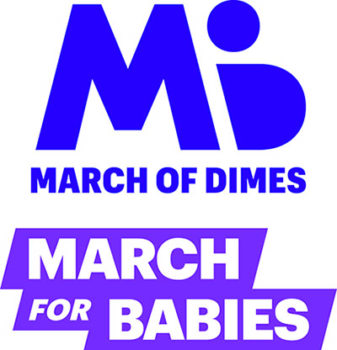 The March of Dimes March for Babies is an annual event that raises money to help the March of Dimes fund research and programs aimed at making moms, babies and families stronger and healthier. This comes in the form of vaccines, breathing therapy, newborn screenings and several other important ventures.
Joining this fight is as simple as forming your own family team, or becoming part of the Children's Wisconsin team! We have a team of dedicated walkers who will be heading to the Pettit National Ice Center (500 S. 84th St.) on Saturday, April 28, and we'd love for you to join us. Registration starts at 9 a.m. with the walk following at 10 a.m. Please join us after the walk at the Children's Wisconsin to connect with NICU graduate families and hospital staff.
Register online today at www.marchforbabies.org/team/CHW2018