Patient Stories
Aug 16, 2022
A cautionary tale about lawn mowers and kids
---
My son, Jonathan, is 21 years old now and many years have passed, but our family remembers the accident like it was yesterday. It was early May of 2004, just a week or so shy of Jonathan's 3rd birthday. Our family was coming home from a fun-filled water park weekend in the Wisconsin Dells. On our way home, my husband, Mike, mentioned he wanted to cut the grass when we got home. I don't entirely remember what happened after that, but only a few minutes had passed since I had shuttled both boys into the house, thrown a quick load of laundry in and ran to the bathroom. The next thing I remember was hearing a scream.
Jonathan had run outside and rounded the corner on our house just as Mike was backing up on our riding lawn mower. We picked him up and rushed him to the kitchen sink. I quickly called 911. Some neighbors across the street heard the commotion and came to help. Thankfully, there were sheriff deputies, police officers and a nurse in the mix who helped tend to his injuries. I rode along in the ambulance with Jonathan to our local hospital in Hartford where Flight For Life quickly transported him to Children's Wisconsin. That night, we met Channing Tassone, MD, a pediatric orthopedic surgeon, and numerous other doctors and nurses.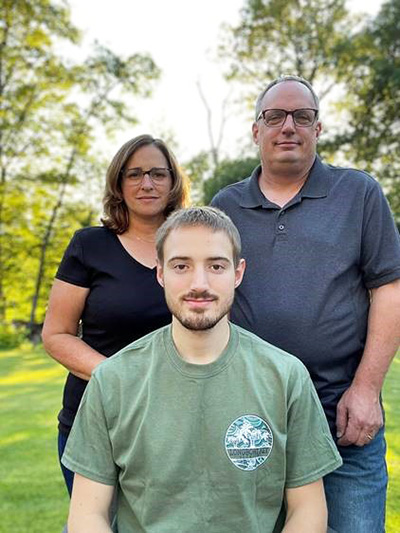 I remember listening to the Miracle Marathon on WKLH prior to Jonathan's accident. The message was that many parents don't think they will ever need the care that Children's Wisconsin provides. That was true for us, too. But in an instant, our whole world was turned upside down. We found ourselves in a fog navigating the hospital halls. There we were, in the hospital we thought we'd never need. The hospital that heals sick and injured children. Dr. Tassone, along with numerous other doctors and nurses, worked tirelessly to save Jonathan's life. For that, we are forever grateful and thankful.
Jonathan lost both of his feet — on one leg at the ankle and on the other just above. He spent several weeks in the hospital and endured months of orthopedic and plastic surgeries. He was fitted for prosthetics and learned to walk with lots of physical therapy and support. 
That moment changed Jonathan's life, and our lives, forever. That's how fast these accidents can happen. Of course, parents are trying to be careful — but they also think these things won't happen to their kids. Lawn mower injuries are always accidents — and always devastating. There is no such thing as a "minor" lawn mower injury. We are sharing our story in the hope that it serves as a reminder to parents and grandparents out there to take every precaution they can when using a mower. 
Lawn mower injuries are devastating and life altering
Each year, more than 9,000 children are treated in emergency departments and hospitals for injuries related to lawn mowers. Children younger than 15 years of age have the most mower accidents of any age group. Most are caused by the unsafe use of mowers rather than a mechanical malfunction. Almost all injuries occur while a parent or relative is operating the lawn mower.
"As doctors who care for kids, lawn mower injuries cause us great angst," said Dr. Tassone. "They happen every summer, and every time, it is heartbreaking to get that call that a child is coming in with a lawn mower injury. Medical teams from the Emergency Department, Surgery, Critical Care, Physical Medicine and Orthopedics are all usually involved in caring for these patients. These injuries are devastating for the family and carry life-altering implications for the child. I'm a parent, too, and we all know nothing bad happens 99 percent of the time. But for that 1 percent when an accident with a lawn mower happens, there is no do over. It's a done deal."
What to know before you mow:
Children should stay in the house and under the supervision of another adult while a lawn mower is in use. 


Teach kids that lawn mowers are "revolving knives" and never to approach one that's running. 


Never let a child ride on a mower with you. Many injuries occur when children slide off and fall under the mower blades. 


Always look carefully and stop the blades when backing up. 


Pick up stones, toys and debris from the lawn to prevent flying objects. 


Never leave a running mower unattended. 


Children should be at least 12 years of age to operate a push mower. 


Children should be at least 16 years of age to operate a riding mower.
Please download our lawn mower safety tip sheet. For more safety tips, visit the Children's Wisconsin Safety Center.