Patient Stories
Apr 05, 2016
March for Babies: NICU families return to help others
---
At Children's Wisconsin, you'll find the only Neonatal Intensive Care Unit in the state that partners with the March of Dimes to bring in a dedicated specialist (such as myself) to help families during their time here. Our March of Dimes NICU Family Support Program offers classes, social support and bedside education aimed at guiding families through what can be such a trying time.
Amelia's NICU story: Why we give back
Oftentimes, we have families who stay connected with the program and volunteer their time and services to help those who come after them. Julia and Andy Jacobsen are a great example, and Julia agreed to share their story.
Our family hasn't been in the NICU for nearly three years, but to this day I still remember everything the March of Dimes did for us while we were there. That's why my husband, Andy, and I have made a point to stay involved.
During the three months that we were in the NICU with our daughter, Amelia, I attended many classes and activities put on by the March of Dimes that allowed me to learn a lot about what was going on as well as meet other parents who were in the same situation. After leaving the hospital, we decided we wanted to give back to the organization that had made such a huge impact on our family.
I joined the NICU Family Support Committee, and continue to be a part of it, giving my feedback as a graduate parent to support staff, nurses and doctors as they welcome new families to the NICU. I've had the opportunity to share our story many times and answer questions for parents. Andy volunteers every other month for "Dad's Night Out," where he shares his NICU experiences with other fathers.
Something that sticks out to me about our time in the NICU is getting cute little hats for Amelia that the March of Dimes provided. While I was there I borrowed a knitting loom from their office, and to this day enjoy knitting hats for NICU babies to wear for the holidays. It really lifted our spirits, and I want to help do the same for other families.
Other ways we have stayed in touch include working with doctors to develop an app aimed at parents who might be at risk for preterm labor, and attending the March for Babies walk every year with Amelia, who is now a very active toddler who loves to color, play outside and spend time with family.
There isn't a day that goes by when we don't think about how each and every person touched our lives and helped us get through our stay in the NICU.
Come join the March for Babies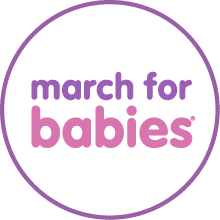 The March of Dimes March for Babies is an annual event that raises money to help the March of Dimes fund research and programs aimed at making babies stronger and healthier. This comes in the form of vaccines, breathing therapy, newborn screenings and several other important ventures.
Joining this fight is as simple as forming your own team, or becoming part of the Children's Wisconsin team! We have a team of dedicated hoofers who will be heading down to Veterans Park, 1010 N. Lincoln Drive, on Saturday, April 30, and we'd love for you to join us! Registration starts at 9 a.m. with the walk following at 10 a.m. Please join us after the walk at the Children's Wisconsin tent to connect with NICU graduate families and staff.
Register online today at marchforbabies.org/team/chw2016.