Show us how your family is staying healthy this summer
---
For the past several summers, Mission: Healthy Kids, a partnership of Kohl's® and Children's Wisconsin, has hosted a Summer Healthy Family Challenge. These free challenges, open to all Wisconsin families, have the goal of helping parents and kids find new ways to eat right, stay active and practice mindfulness — together. As an added bonus, families who participate are entered into a drawing to win one of 10 family prize packages with prizes that range from Wisconsin Dells gift cards and meal delivery service subscriptions to activity trackers. 
This summer, we took a little different angle when creating the Challenge. Rather than our Mission: Healthy Kids team offering ideas and tips, we are asking families to share their ideas for staying healthy by creating short and simple "how-to" videos. It has been awesome to see families being creative and kids getting involved in the production. Families have recorded themselves making healthy recipes, showcasing their gardens and talking about the fruits and vegetables they are growing, playing with water balloons in the yard as a fun way to get active, enjoying their favorite parks and playgrounds and more.
How to enter in the Mission: Healthy Kids 2021 Summer Healthy Family Challenge

To be entered into the drawing to win one of 10 family prize packages, you must complete the following steps:
Share/submit a short video


On TikTok — be sure to post with hashtag #HealthyHowTo
In our Mission: Healthy Kids 2021 Summer Healthy Family Challenge Facebook group (You'll receive an invitation via email after you register.)
Via email to missionhealthykids@gmail.com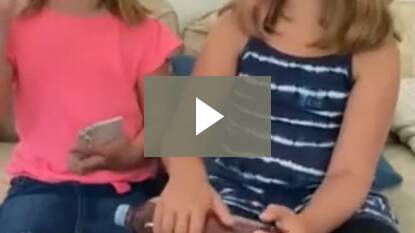 Lia Polum of Kenosha learned about the opportunity and told her daughters Ella, 8, and Anna, 6, about it. They discussed what the topic of their video would be, and they decided on mindfulness. Lia says said once her girls chose their topic, they ran to their rooms, grabbed their supplies and started rolling. Ella showcased a calm-down bottle she created that helps when she's feeling stressed. Anna showed homemade cards that offer prompts to help her calm down, take deep breaths and feel less anxious at home and at school. 
"The Challenge is easy to do," said Lia. "My daughters have really enjoyed watching the other videos shared in the closed Facebook group, and it makes them want to do those healthy things, too."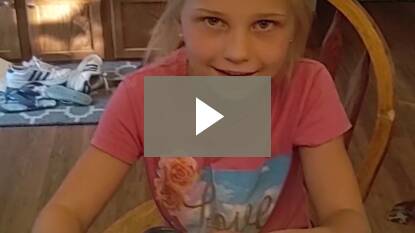 Genifer Schaefer of Greenville got her three kids involved in the Challenge last summer and was excited to participate again this summer. Gerald, 8, Emily, 6, and Autumn, 4, have created and shared several "how-to" videos. For one, they visited a local farmer's market and purchased kohlrabi for the first time. After researching different recipes that use the vegetable, they decided to try kohlrabi fries. In their video, the kids demonstrated step-by-step recipe instructions.
"The kohlrabi fries were a huge success," said Genifer. "All of my kids enjoyed making them and eating them. Gerald even went back for seconds! I've learned through this Challenge that having them help more with prepping dinner and getting them more engaged in the kitchen has led to them enjoying eating more. We really grow as a family by participating in these simple and fun activities."
The Mission: Healthy Kids Summer Healthy Family "How-to" Challenge runs now through Aug. 6. Register your family today to get started, create and share your own healthy how-to video. 
Mission: Healthy Kids is a partnership with Kohl's and Children's Wisconsin that helps Wisconsin kids and families learn how to eat right, stay fit and feel good about their bodies. The program promotes policy, systems and environmental changes in schools, and provides free health resources to families on topics of nutrition, physical activity and healthy minds. Visit missionhealthykids.org.