My visit to Riverside Elementary — the winning Driven to Better Health school
---
On Friday, May 29, I had the pleasure of visiting Riverside Elementary School in Fond du Lac. We selected the students and teachers there as the grand-prize winners of the first Driven to Better Health challenge, thanks to their creative and effective approach to promoting health.
Riverside established a student wellness team that helped plan weekly challenges for students to meet, held a "taste test a fish" event that led to students voting to serve healthy baked white fish at school, and made sledding and shoveling equipment available for students to use during recess as a way to encourage staying active during winter.
Everyone packed into the gymnasium, where we danced, took pictures, and had a great time talking about what it takes to maintain a healthy lifestyle. We even were treated to a nutritious snack to help keep us going. The atmosphere was absolutely amazing!
VIDEO: Watch Donald Driver celebrate with students at Riverside Elementary
While my visit was the award, I felt like I won something that day, too. I saw hundreds of children make healthy changes that they will hopefully maintain for the rest of their lives.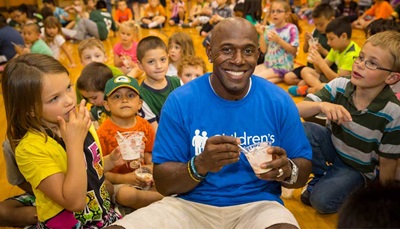 Donald Driver enjoyed a nutritious snack with students.
My next visit could be to your home
Driven to Better Health is a partnership I entered into with Children's Wisconsin last year with the goal of promoting health and wellness to Wisconsin's youth in school and at home. With 150 schools from 83 districts participating, we reached over 53,000 students. It was a great start, but it's just the beginning!
The family portion of Driven to Better Health kicks off June 22. The prize will be a personal visit from me to the winning family's home. That's right! I want to come to your house and spend time with you and your family!
Families who register at driventobetterhealth.com will receive wristbands for each family member so everyone can show their commitment to living healthy this summer (and beyond!). In order to be eligible to win the visit, families will have to submit a photo with everyone wearing the wristbands while showing off their healthy eating or physical activity.
I invite you to take action and register your family for Driven to Better Health. Who knows … my next visit could be to your home!