Patient Stories
Apr 15, 2017
Children's Wisconsin thinks 'inside the box' to promote safe sleeping
---
At least one Wisconsin infant dies every week in an unsafe sleep environment, according to the Children's Health Alliance of Wisconsin.
In order to address this preventable tragedy, Children's Wisconsin Community Services is piloting an initiative to distribute "Newborn Nests" to parents in need of a safe place for their babies to sleep.
Intended for the first few months of infancy, Newborn Nests are made of sturdy cardboard and come with a mattress, two fitted sheets, a pacifier, a sleep sack and a safe-sleep board book.
Children's Wisconsin Community Services, in collaboration with the Children's Health Alliance of Wisconsin, is undergoing the pilot in order to gain more insight on the usage of Newborn Nests and how they can help families in unique situations.
"We are piloting this for the very purpose of learning," said Karen Ordinans, executive director of the Children's Health Alliance of Wisconsin, a partnership between state government, Children's Wisconsin and American Family Children's Wisconsin. "We want to learn how we can be helpful to families and how we can promote safe sleep."
So far, approximately 25 Newborn Nests have been distributed to families across the state, mainly through Children's Wisconsin Community Services' home visiting programs and certain local health departments. A few Newborn Nests have also been given to parents in the hospital's neonatal intensive care unit and the emergency department.
The initial goal is to distribute 500 Newborn Nests.
Funded through donations to Children's Wisconsin, Newborn Nests are offered to pregnant women and moms with babies under 8 weeks old after they receive safe sleep training. Staff members follow up with the family after two weeks — and again after two months — to make sure the Newborn Nests are being used properly.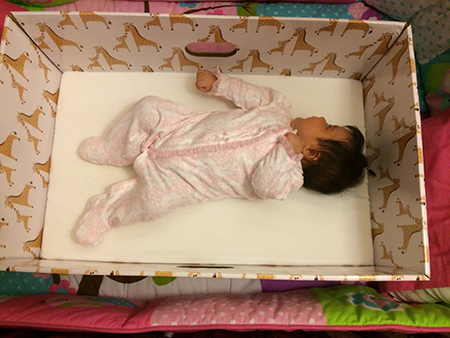 With assistance from the University of Wisconsin-Milwaukee College of Nursing, Children's Wisconsin Community Services and CHAW will evaluate the data collected at those follow-up visits and conduct focus groups with home visiting staff and parents.
While the organizations await their findings on the effectiveness of Newborn Nests, they know that research from other countries is promising, according to Kristin Kopcha, director of family preservation and support at Children's Wisconsin Community Services.
For instance, Newborn Nests originated from Finland's infamous "Baby Boxes" distributed since 1938.
Once possessing an infant mortality rate of 65 deaths for every 1,000 births, Finland began giving Baby Boxes, featuring clothes, blankets and other newborn necessities, to every expecting woman in the country.
The initiative helped lead Finland to achieve one of the world's lowest infant mortality rates, with a reported three deaths per 1,000 births.
Cribs and Pack 'n Plays remain the safest and most long-term places for an infant to sleep, according to Kopcha, but Newborn Nests can be a good option for families who have limited space, need a sleep surface when the baby is with another caregiver, or need a way to keep the baby in the same room as the adult without sharing a bed.
"We want to ensure all families are aware of the safest place for babies to sleep: alone, on their back, in a crib, in a smoke-free environment, and sharing a room but not a bed," Kopcha said.
Newborn Nests are space-saving, lightweight, compact and easy to transport to other places, such as a grandparent's house, she added. They also meet safety regulations enacted by the U.S. Product Safety Commission, and they comply with American Academy of Pediatrics recommendations.
The feedback from families using Newborn Nests has been positive thus far, and Kopcha said the plan is to continue distributing them after the pilot is completed.
"Our goal is to make sure everyone has the best information and options available to give every baby the best chance to thrive," Kopcha said.