Patient Stories
Nov 10, 2015
NICU baby inspires family to share story live on Periscope
---
There are so many inspiring stories here at Children's Wisconsin, and we're always looking for new ways to share them. To that end, we're about to bring you a very special story from our Neonatal Intensive Care Unit in a new and exciting way.
Baby Madeline was born premature, arriving at just 24 weeks gestation. She weighed just over 1 pound, and has spent the first three months of her life in our NICU. Like so many babies born too early, her journey is one of hope, courage and strength.
See through the eyes of the most delicate patient
On Nov. 16, 17 and 18, Madeline's family will share their emotional story live from our NICU in a special event via the Periscope video-streaming app. By joining us on Periscope, you'll get intimate access to this family's life. You'll see baby Madeline interacting with her family, witness the journey of a premature NICU baby, and hear from the doctors, nurses and staff at Children's Wisconsin who are working to help Madeline go home.
We're incredibly honored that Madeline's family is willing to share their story, and hope you'll join us.
Tune in and support baby Madeline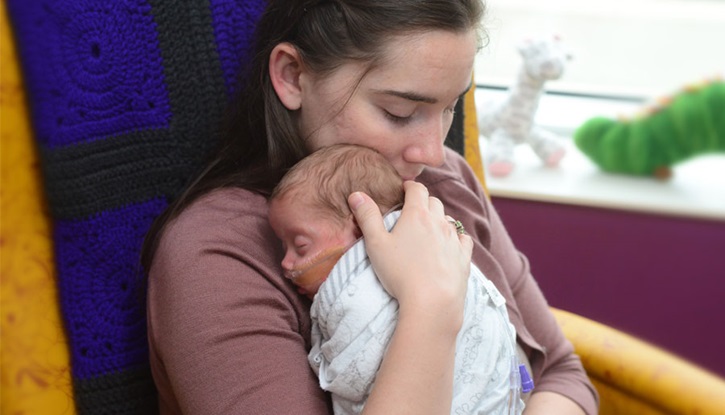 Rebecca holds and comforts her premature baby, Madeline, in our NICU.
Back in July, Rebecca and Oliver Zornow learned that their twin girls — Lydia and Madeline — had a condition known as twin-to-twin-transfusion syndrome (TTTS). This occurs when there is an imbalance in the blood flow between identical twins who share a placenta. In this case, Madeline was getting too much while Lydia was not getting enough.
After a hectic few weeks that included countless tests, consultations and a surgery, the girls were delivered in late August. Sadly, Lydia passed away four days later.
Madeline has rallied and now weighs over 4 pounds.
How to participate and watch live
There are two ways you can join us to watch and participate in this live event occurring Nov. 16, 17 and 18:
Watch on Periscope: Follow Children's Wisconsin on Periscope on your mobile phone or tablet, then look for our live broadcasts starting at 1 p.m. each day. You can download the Periscope app for both iOS and Android mobile devices.
Watch on Twitter: You can watch our live broadcasts via Twitter from any computer or mobile device. Simply follow Children's Wisconsin on Twitter and look for the links at 1 p.m. each day.
November is Prematurity Awareness Month
Children's Wisconsin is proud to help the March of Dimes focus the nation's attention on premature birth during Prematurity Awareness Month. Premature birth is birth that happens too soon, before 37 weeks of pregnancy. Babies born this early may have more health problems or may need to stay in the hospital longer than babies born later. Each year in the United States, about 1 in 10 babies is born prematurely.
We hope sharing Madeline's inspiring NICU story during Prematurity Awareness Month will help spread the word on the serious problem of premature birth. Please join us on Periscope or Twitter on Nov. 16, 17 and 18 to watch and participate in this event.