Patient families give back with the Children's Hospital of Wisconsin license plate
---
There are many ways Children's Wisconsin families show their support for the life-changing care their kids have received. These five families showed their gratitude by purchasing a Children's Wisconsin license plate. Purchasing a plate not only spreads blue kids pride, but also helps support the care we provide kids and families every day.
Visit childrenswi.org/plate to learn how to get yours!
A medical miracle
At a hospital where incredible things happen every day, In 2016, Thomas was born without a trachea –– a condition that no child in the United States had ever survived.
In a series of events with no roadmap, but a great deal of teamwork and dedication, Thomas underwent several surgeries at Children's Wisconsin's with John Densmore, MD, pediatric surgeon and Michael Mitchell, MD, cardiothoracic surgeon. The procedures allowed Thomas to do something his parents weren't sure he ever would –– breathe.
Today, Thomas is home and doing well. He eats normally, breathes on his own and is one happy kid! Thomas' parents are so grateful for the doctors at Children's Wisconsin who gave Thomas the amazing care that saved his life. The family's license plate will always remind them of Thomas' incredible journey.
Kids think the license plate is cool, too!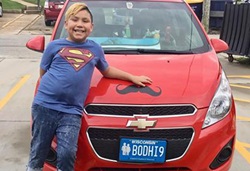 Since the age of 4, Bodhi has been a patient at Children's Wisconsin for several conditions that have required close collaboration between his providers in our Gastroenterology, Liver and Nutrition Program and our Jane B. Pettit Pain & Headache Center. Bodhi's mom said, "Everyone has been so helpful to us with every challenge we've faced. It's all about teamwork and communication and the Children's Wisconsin team is amazing at that!"
Bodhi is now 9 years old and when he learned there was a Children's Wisconsin license plate available, he told his mom, "That's so cool! We need to get one!"
The end of a troubling diagnosis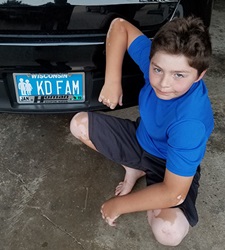 During his first few months of life Connor had constant high fevers, but doctors struggled to diagnose him until his parents brought him to Children's Wisconsin at the age of 5 months. In the care of Michael Earing, MD, a cardiologist at our Herma Heart Institute, Connor was diagnosed with Kawasaki Disease — a heart condition that causes inflammation of the arteries. Now Connor receives specialized care and at age 13 he is doing great!
Grateful for Connor's care, his parents got their very own personalized Children's Wisconsin license plate. Mom says, "We are so thankful for Children's Wisconsin finally diagnosing our son, so we wanted to show our support."
 Mom really knows best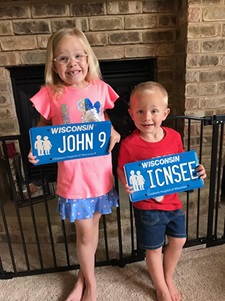 When Alana turned 3 in 2016, her mom noticed that something wasn't quite right about her daughter's left eye. The family visited the Ophthalmology Clinic at Children's Wisconsin, where doctors confirmed that Alana did not have a reflex in her eye. Eye surgery was scheduled and doctors learned that Alana had a rare congenital condition where a cataract formed because of a malformation in utero. The cataract was removed, and an intraocular lens was implanted.
Today, Alana's eyesight continues to slowly improve with the help of her intraocular lens implant and bifocal lens. Mom said, "Children's Wisconsin offered us a really nice combination of services and support and were there for whatever we needed. We couldn't be more grateful." Now, their special license plates help tell Alana's story!
Caring for kids, empowering parents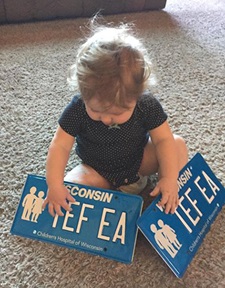 When Penelope was born, her mom noticed her cry was abnormal. Then, when Penelope tried to eat, her body turned blue. She was taken to Children's Wisconsin, where she was diagnosed with tracheal esophageal fistula and esophageal atresia (TEF/EA), a gastrointestinal birth defect that features abnormal connections between the esophagus and the trachea. John Densmore, MD, pediatric surgeon, performed laparoscopic surgery to fix the connections so Penelope could eat without getting fluid in her lungs. Mom said, "Our care was amazing, and our nurse, Sarah, really educated me so I can be empowered with knowledge about Penelope's condition."
Penelope is 18 months old and doing great, and mom was so happy with the care her daughter got at Children's that she switched Penelope's pediatrician to Jaya Iyer, MD, at Kenosha Pediatrics. The family got a license plate to spread awareness about TEF/EA and support Children's Wisconsin.
By purchasing a Children's Wisconsin license plate today, you can help children like these. Visit childrenswi.org/plate to learn how to get yours!