Patient Stories
Jan 18, 2016
Playroom of Hope sibling care room focuses on brothers and sisters
---
Having a seriously ill child is one of the most devastating experiences a family can go through. Getting treatment often requires frequent trips to the hospital, even extended stays, and it's not just the sick child who is affected, but all the members of the family who must rearrange their lives and make huge sacrifices.
In addition to worrying about whether their sibling will be OK, brothers and sisters also can feel overlooked. That's why we're especially proud of our new Playroom of Hope, a state-of-the-art sibling care space at Children's Wisconsin that shines the spotlight on some of our patients' most dedicated cheerleaders.
Playroom of Hope came about thanks to the efforts of the Wallace family, whose daughter Nevaeh spent a lot of time at our hospital. Matt and Jamie Wallace appreciated that while they were helping care for Nevaeh, who died at 14 months old in 2009, their other children were being attended to by our child life and expressive therapies team. The Wallaces wanted to help create a larger space in their daughter's memory, and led many tremendous fundraising efforts to make Playroom of Hope a reality.
A place where kids can enjoy being kids
Designed with input from our child life and expressive therapies team, Playroom of Hope features all sorts of toys, books, games – even a smart board that children can draw on and then print or download their creations to share with their sibling. They can also tuck themselves away with a good book in one of several reading nooks, and there's a quiet room where they can meet one-on-one with specialists from our Child Life Program and Expressive Therapies Program.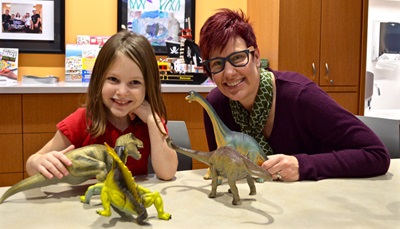 Recently, we got a return visit from Ivory Donnerbauer, a 5-year-old ball of energy whose brother Miles was being seen in our hospital. Ivory immediately made herself at home, finding toy dinosaurs to play with and exercising her imagination with building blocks.
"When we were in the hospital for five weeks after Miles was born, Ivory just thought the sibling care room was the greatest thing, because she got time for her," said Ivory's mom, Melanie Donnerbauer. "She loves being a big sister and helping take care of Miles, but this is time that's just for her. She gets time to play."
Having a place like this gives every child who comes through our doors something to look forward to. It also can help give parents peace of mind that all of their children's needs are being met during what is often a trying time. Whatever else might be going on in their lives, this is a place set aside for them to enjoy being a kid.