We're in the top 1 percent
---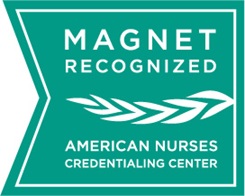 It's been an exciting two weeks for Children's Wisconsin nurses. As we wrapped up National Nurses Week celebrations last week, we were informed of another announcement that we have been anticipating — we were scheduled to receive a phone call from the prestigious Magnet Recognition Program® with news of whether or not Children's Wisconsin would receive Magnet designation for the third consecutive time.
This morning our auditorium was packed full of nurses, multidisciplinary team members and leaders. Staff from our Surgicenter and Fox Valley hospital joined by phone and in person. Excitement filled the room when the call came in and we were told that we received our third designation as a Magnet hospital. The crowd erupted in cheering and applause.
Continuing to raise the bar
Less than 7 percent of the nation's hospitals have achieved Magnet recognition, so we knew we were a part of an elite group. However, while on the phone with Deborah Zimmerman, DNP, RN, NEA-BC, Chair of the Commission for the Magnet Recognition Program, we learned just how elite that group was. Only 3 percent of our nation's hospitals seeking redesignation are actually successful; and of those who are, only 1 percent achieve Magnet designation three consecutive times!
To earn Magnet status once is a tremendous accomplishment and great source of pride for all of us at Children's Wisconsin. It is the nursing profession's highest honor and to be designated three times in a row is truly amazing. What makes this third Magnet designation especially exciting is that it validates the excellence of not one, but three Children's Wisconsin sites – our hospitals in Milwaukee and the Fox Valley, and the Surgicenter.
Watch this video to learn what it means to our nurses to work for a Magnet hospital.
A special thank you to Nancy Korom, MSN, RN, NEA-BC, FAAN, vice president and chief nursing officer, whose leadership has been integral to us achieving Magnet status since our first designation in 2004. On the journey to Magnet excellence, all of our staff has worked hard to improve the quality and safety of our patient care across the organization. Receiving this designation for the third time proves that we continue to raise the bar.