Patient Stories
Nov 20, 2015
Watch NICU family's inspiring story shared during Periscope event
---
We knew the Zornows had an incredible story to share. What we didn't know was how that story would translate to Periscope, a video-streaming app that would let us broadcast our talk with the family — and some of the staff at Children's Wisconsin who have been involved in their care — live from our Neonatal Intensive Care Unit.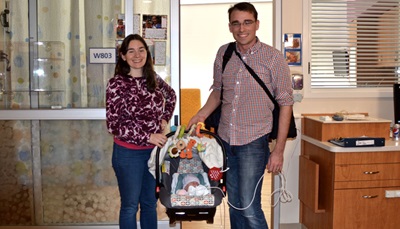 But we're happy to report that the three-day event was a fantastic success, thanks in large part to Rebecca and Oliver being so open and willing to share their story — which, like all NICU stories, has its heartbreaks as well as its triumphs. Baby Madeline is a natural superstar, and hearing about the family's brief but unforgettable time with Madeline's twin sister, Lydia, was inspirational for everyone watching.
People magazine even took notice, posting a story about the event on its website. Locally, Fox 6 News featured the Zornows in a report about raising awareness for premature babies.
We're also happy to share that baby Madeline finally got to head home with Mom and Dad this week, just one day before her original due date. And just in time for the family's first Thanksgiving.
Watch our Periscope broadcasts
Here are the videos we captured during our Periscope broadcasts. We are so proud to have been able to share in this special family's journey:
Monday, Nov. 16
Tuesday, Nov. 17
Wednesday, Nov. 18