Wisconsin vaccination rates improve 5 years in a row — good news for kids
---
In 2009, Children's Wisconsin made a commitment to boost vaccination rates in our region. Our five-year immunization project had great results, with vaccination rates among 2-year-olds in our care and throughout the state improving every year for five years.
We partnered with the Wisconsin Immunization Program, the city of Wauwatosa, and the city of Milwaukee to get these results.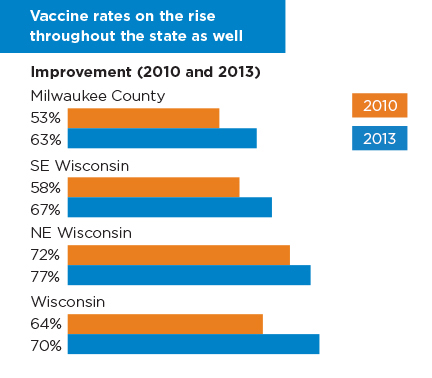 Our work is not done
We've made great strides getting kids the shots they need, but our work is not done. Ninety-two children died from the flu this past season. Highly contagious diseases like measles, mumps and whooping cough are on the rise, and far too many individuals are still developing human papillomavirus (HPV) infection-related cancers. Kids deserve the best, and at Children's we believe every child who is able to receive all of the recommended shots should do so. We will continue to work with families, educate them on the facts, and reassure them that vaccines are important, safe and effective.
Together we will continue to work to achieve even greater improvement bringing us closer to achieving our vision: Wisconsin's kids will be the healthiest in the nation.