WKLH Miracle Marathon provides hope and support for families
---
How can something be selfless and selfish at the very same time? Sounds impossible, doesn't it? It's not.
In a study on charitable giving, researchers found that when people donate to a worthy cause, the pleasure center of the brain lights up. There is no more worthy cause than Children's Wisconsin of Wisconsin, and that's why I host the annual Miracle Marathon in support of the incredible care the hospital provides to kids and families in our very own Milwaukee community, as well as to kids from around the state, country and even the world.
20 plus years of powerful stories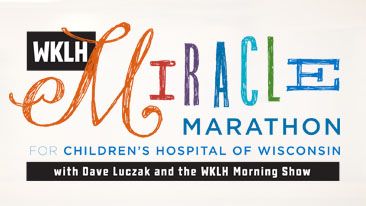 For the past 21 years, it has been my honor to be the voice of the annual WKLH Miracle Marathon for Children's Wisconsin. Since 1997, Miracle Marathon has raised more than $24 million to support the life-changing care provided to kids and families.
The event has grown from a grassroots effort with telephone volunteers and hand-written pledge cards to an incredibly well-orchestrated event that still relies on volunteers but now uses digital technology to help bring in donations. But one thing hasn't changed — the stories shared by the kids and families of Children's Wisconsin are still powerful and moving.
Inspired by kids
When this amazing event started, our three kids were 15, 13 and 11 years old. And yes, they each required the services of Children's Wisconsin at one time or another.
Now, not only am I the proud grandfather of six, I am also honored to serve on the Children's Wisconsin Foundation Board of Directors. For over two decades, it has been a true privilege to hear the inspiring stories of courage and hope from patients, families and staff at Children's Wisconsin — stories like the one of Sara and Auden whose lives were saved by a rarely performed split liver transplant.
Wise beyond their years
The young patients typically display wisdom far beyond their years. As moms and dads, brothers, sisters, grandparents and foster parents describe what brought them to Children's Wisconsin, I can't even imagine what kind of courage it must take to describe what they're dealing with. But they do. Why? Because they hope you'll step up and donate.
I'll admit that each year I am profoundly affected by these stories, which are at times moving, funny, awe-inspiring and heartbreaking. It takes me a couple of months to return to my "normal" emotional state after listening to these stories. More than once, I've had a listener say to me, "I can't listen. It's just too hard." My reply is, "How about those who are living it?"
How to give
So, for 36 hours — from 5 a.m. Thursday, May 24, to 5 p.m. Friday, May 25 — tune into the 21st annual Miracle Marathon on 96.5 WKLH in Milwaukee (listen live at WKLH.com) and make a donation at childrenswi.org/miraclemarathon to support the patients and families who rely on Children's Wisconsin as their place of healing and hope.
And remember, the gift of giving always comes full circle. Indeed, donating not only helps the kids, it's also good for the soul.