Information when you need it the most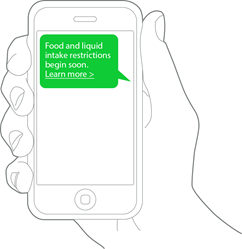 The Patient Journey messaging service sends you timely information and reminders when you need them the most. Based on your child's upcoming appointment or procedure, updates sent directly to your mobile phone could include information on what to expect, how to prepare, how the procedure is going, and important steps to take and things to know in the days and weeks following.
If you or your child are scheduled for a procedure or appointment that uses Patient Journey, and if we have a cellphone number in our records for you, you'll get an initial text letting you know more messages will be coming. If you don't want the messages at any time, just reply "cancel." To permanently stop all future messages, reply "stop."
To add others to the messages, like a spouse or other caregiver, just ask a member of your care team.
Pre and post-op messages
In the weeks and days before your child's procedure, helpful information and reminders will be sent to you. This could include reminders such as where your child's procedure is at, how to get there and what you need to do to prepare your child for this procedure. Messages may also be sent for a period of time after the procedure helping guide you through your child's recovery process.
Intra-op messages
For certain procedures, real-time in-op messages will also be sent to help keep you updated through every step of the way.
Frequently asked questions
Can I sign up my spouse or other family members?
Yes! Just ask a member of your care team. That could include spouses, grandparents, etc. Add as many other people as you'd like.
Can I receive these messages as emails instead?
Because of the time sensitive nature of these messages, text messaging is the primary delivery method so a mobile phone number that can receive text messages is required. However, we also offer the option of receiving these as emails. To confirm that we have the correct email address, just ask a member of your care team.
Can I cancel this service at any time?
Yes. If, for whatever reason, you no longer wish to receive messages, you can reply "stop" to any of the text messages. You will no longer receive messages related to that procedure or appointment. To permanently cancel all future messages, just reply "cancel."
Terms and conditions
Terms and Conditions: Children's Wisconsin Patient Journey Messaging Program
These Terms and Conditions ("Terms") govern your participation in the Children's Wisconsin Patient Journey Messaging Program ("Program"). This program allows you to receive communication about your child's upcoming procedure via text messaging. You agree to comply with the Terms by enrolling in this program.
Your Obligations
THIS PROGRAM IS NOT AN EMERGENCY SERVICE. IF YOU ARE EXPERIENCING A MEDICAL EMERGENCY, PLEASE CALL 911 OR YOUR PROVIDER IMMEDIATELY.
This program is meant to enhance our communication about a procedure. The program does not replace medical appointments or speaking with your Provider. If you need medical advice or do not understand the information in this program, please contact your Provider. Although your Provider is aware of the general content of the program, he/she does not have access to the specific information/messages that you received. This program does not update your medical record.
Any content accessed through the program is for informational purposes only, and is not intended to cover all possible uses, directions, precautions, drug interactions or adverse effects. Do not ignore or delay obtaining professional medical advice because of information accessed through this program.
Although you may receive messages through this program, this program is not [otherwise] intended to offer medical advice or treatment. Any content, information, analyses or suggestions available through this program are not a substitute for the professional judgment of health care providers in diagnosis or treatment. Similarly, when you are in personal contact with your Provider (i.e., face-to-face or on the phone), you should not assume that your Provider has access to any information available in this program, so you should personally notify your Provider of any information you believe to be important to your diagnosis or treatment.
Please do not reply to any text messages. Replies to any messages are routed to an unmonitored number and will not be responded to.
You are responsible for any and all costs and fees associated with these text messages, or any other element of your cell phone plan or charges. Upon request, your Provider can let you know how many messages to expect over the course of your child's procedure and recovery.
You agree to do each of the following: 1) comply with applicable law, the Terms and applicable program policies; 2) use reasonable security precautions in light of your use of the program including maintaining the confidentiality of your account information; and 3) immediately notify Children's Wisconsin, by calling (414) 266-4796, of any unauthorized use of your account or any other breach of security.
You are responsible for the security of all activities that occur on your account. You must immediately notify Children's Wisconsin of any unauthorized use of your account by calling (414) 266-4796. Children's Wisconsin is not responsible for any loss that you may incur as a result of any unauthorized use of your user account.
Children's Wisconsin has no responsibility for assuring that all communications, including those containing time-sensitive, urgent or medically altering information sent through this program, are received, read and acted upon by the receiving party. Children's Wisconsin shall not be liable for any claims, suits, damages, fines, penalties and liabilities resulting from or arising out of failure of a communication using the program to be sent, received, read or acted upon.
Your use of this program and any content accessed through the program must comply with all applicable laws, regulations and ordinances, including any laws regarding the export of data or software.
Children's Wisconsin does not warrant that this program's message delivery is compatible with all devices and with all versions/updates of all operating systems or firmware.
Children's Wisconsin's Obligations
Children's Wisconsin follows security procedures instituted in accordance with the Health Insurance Portability and Accountability Act of 1996 ("HIPAA").
Children's Wisconsin may disclose your information if permitted by law, legally required to do so or if Children's Wisconsin determines that the disclosure is reasonably necessary to enforce the Terms or to protect any rights hereunder or to respond to claims of wrongdoing by others.
Termination and Modification of Terms.
You may cancel your enrollment in this program at any time by notifying your provider of your intent to do so. In the event that Children's Wisconsin modifies the Terms contained herein, you may terminate your enrollment in this program by notifying your provider. Your continued use constitutes acceptance to any modification to the Terms.