Castle.Proxies.HeroBannerViewModelProxy?.GoogleAnalyticsEventAction
Robyn's Nest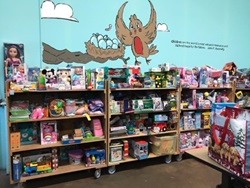 What is Robyn's Nest?
Robyn's Nest is first and foremost a resource for children and youth in foster care and their caregivers. In many cases, children and youth who enter foster care do not have clothing, hygiene items, school supplies or other basic needs items when they are placed in a foster home. Robyn's Nest works with caregivers to ensure these needs can be met. As a program of Children's Wisconsin, however, Robyn's Nest goes so much further. When families come into any door of Children's – from primary care to dental care to parent education – they are able to access the resources of Robyn's Nest.
At the Robyn's Nest facility, families can find clothing, hygiene needs, school and education supplies, toys, books, recreational supplies, infant items, basic household and cleaning supplies, and more. Robyn's Nest is a component of much broader community systems and support. Information is also gathered and provided to families and staff for ways to find additional resources. In the end, Robyn's Nest supports families who are struggling financially and/or have been victims of domestic or community violence, natural disasters, and catastrophic losses such as home fires.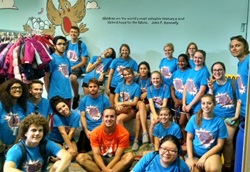 Why is it called Robyn's Nest?
Robyn Hitchman was a social worker and a leader for Children's Service Society of Wisconsin for 17 years. Beyond her professional skills, Robyn cared deeply for the children and families she worked with. In addition to her passion for her work, Robyn was a caring friend and a devoted mother. After Robyn passed away unexpectedly in 2009, staff created Robyn's Nest in her memory so that her impact on children and families could be continued.