Breastfeeding and lactation program
Our teams in Milwaukee and the Fox Valley include lactation consultants who are registered pediatric nurses and international board certified lactation consultants. We offer a wealth of experience and knowledge working with premature infants through toddlers. We offer support to breastfeeding mothers and their babies to help you have a positive and successful breastfeeding experience. Our staff also helps mothers who express their milk (remove milk from their breasts) for feedings.
Certified lactation counselors (CLCs), who are also registered nurses, are also available to help and support families.
Learn more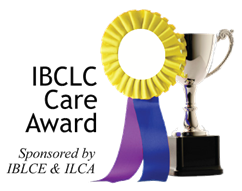 IBCLC care award
Children's Wisconsin has been designated an IBCLC Care Award winner for more than 5 years. The award demonstrates the Children's Wisconsin lactation team's excellence in staffing International Board Certified Lactation Consultants® as part of our maternal-child health care team, and for conducting activities provide promotion, protection, and support of breastfeeding. The IBCLC Care Award is a global recognized program that consists of more than 30,000 professionals in 125 countries worldwide.
Contact us
For more information or to request breastfeeding support from our lactation team at Children's Wisconsin in Milwaukee, call:
(414) 266-1757
For more information or to request breastfeeding support from our lactation team at Children's Wisconsin in Neenah, call:
(920) 969-7990