Family Peace Center offers new hope for victims of domestic violence
---
Today I was honored to observe a wonderful milestone in a very important community partnership. After many months of planning, the Family Peace Center, located at 619 W. Walnut St. in Milwaukee, hosted an open house to celebrate its grand opening.
This is a transformational moment for all of us who care so deeply about improving the lives of kids and families throughout the state. The center represents a unique collaboration that brings together multiple agencies to provide coordinated care to victims of domestic violence in a single location.
The current system can be confusing, complex and difficult to access, with a fragmented approach that often has forced child victims to share their traumatic stories multiple times while traveling to various agencies all over town and even being separated from their loved ones. The Family Peace Center has the help they need in one spot, with services that include:
Identification and treatment of child abuse
Child trauma therapy
Professional and community education
A shelter for families
A dedicated space for law enforcement officials, medical and social services, mental health counseling, job training and more
We can transform our community's response to family violence, ultimately making Milwaukee and its surrounding communities healthier, safer, more peaceful places to live.
Visionary partnership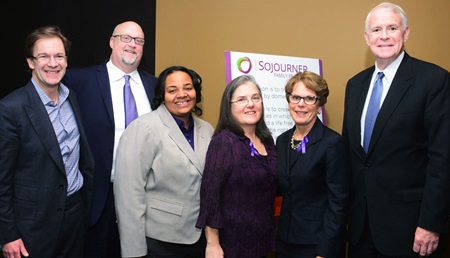 It was a truly a visionary and remarkable partnership that helped make the Family Peace Center a reality. Children's Wisconsin is proud to be a foundational partner and supporter of this project.
All of the partners involved — Sojourner, the Milwaukee County District Attorney's office, the Milwaukee Police Department, Child Protective Services, and Children's Wisconsin — are committed to bringing hope and support to families and reversing the cycle of violence in our community. Thanks to generous community support and funding from the state of Wisconsin, we are one of the first in the nation to house holistic services for domestic violence victims of all ages in one place.
It really does take a village to ensure the health and well-being of kids and families. I am so proud of the work we have done and will continue to do with our partners to make the Family Peace Center a place of healing and hope.