How Rocks for a Reason became a viral sensation for Children's Hospital of Wisconsin
---
This is the story of how a simple idea — and a simple rock — captured imaginations across the country, including more than 1,000 donors, and defied everyone's expectations.
When we first heard that Nordstrom was donating $50,000 to our Rocks for a Reason campaign, we had the same reaction as Dr. David Margolis.
"You've got to be kidding me."
But they weren't. So, how did we get here?
An idea was born
It all started on the afternoon of Thursday, December 8. Dr. Margolis, who oversees our MACC Fund Center for pediatric cancer and blood disorder patients, had heard about how Nordstrom was selling a rock — just a regular rock — for $85 in their annual holiday catalog. Surely, he thought, there were better ways to spend $85. With that pebble of an idea, Rocks for a Reason was born.
Our communications, digital, marketing and foundation teams at Children's Wisconsin quickly got to work and put his vision into action. The concept was simple: anyone who visited childrenswi.org/rock and donated $85 (or more) to Children's Wisconsin through December 31 would receive a rock and a personal thank you note from Dr. Margolis.
Best of all, every dollar donated would support the nation-leading medical care, community-based health initiatives and lifesaving research we provide to families in Wisconsin and beyond — in addition to supporting our child life and expressive therapy programs that help patients during their hospital stays.
By Friday afternoon — less than 12 hours after the campaign was officially announced — $3,625 had been raised. Over the weekend, as Dr. Margolis began collecting rocks on the Lake Michigan shoreline along his parent's house, that figure jumped to $18,805. Even with that incredible initial support, no one had any idea where this fun little rock concept would ultimately lead.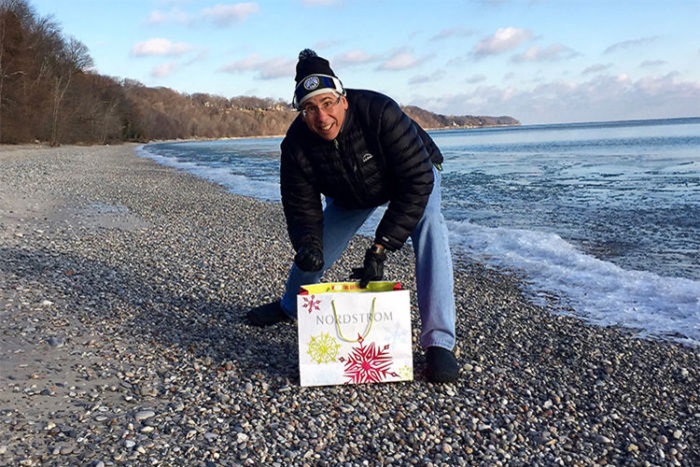 With a new week upon us, we were looking for ways to keep the momentum going. On Tuesday, December 13, we held a mock press conference using Facebook Live to answer some of the common questions we had been receiving on social media and to share the incredible updated results. $25,000. 300 donations. 20 states.
Solving our rock problem
With donations continuing to pour in and the number of donors climbing well into the hundreds, it quickly became apparent we had a rock problem on our hands. Collecting rocks from the shores of Lake Michigan wasn't feasible — for practical and environmental reasons. So, the question became: where were we going to get more than 300 rocks?
Enter: Rademann Stone and Landscape Co., Inc. This Fond du Lac quarry reached out and generously donated approximately 700 rocks. That's more than 800 pounds. Dr. Margolis was grateful, and not just because he didn't have to dig through a foot of snow to collect more rocks himself.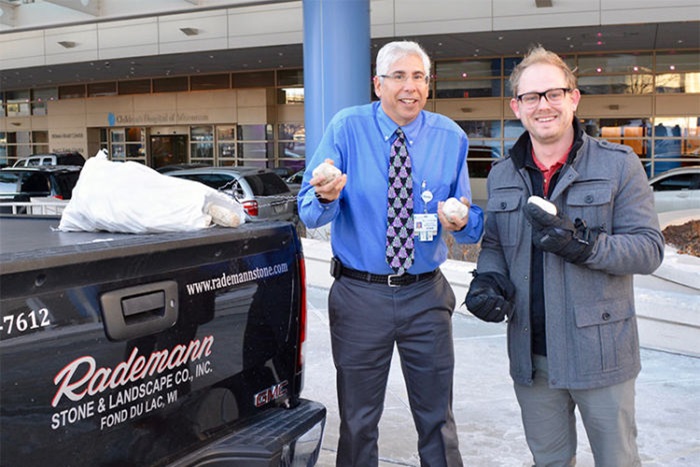 On Thursday, December 15, Dr. Margolis combined two of his passions — helping kids and the Milwaukee Bucks. In recognition of the team's ongoing support of Children's Wisconsin, he personally delivered a rock to Bango during their game at the BMO Harris Bradley Center that night. This was the very first rock delivered through our Rocks for a Reason campaign. Inspired by Bango, fellow Bucks fans broke out their checkbooks and began handing cash to Dr. Margolis.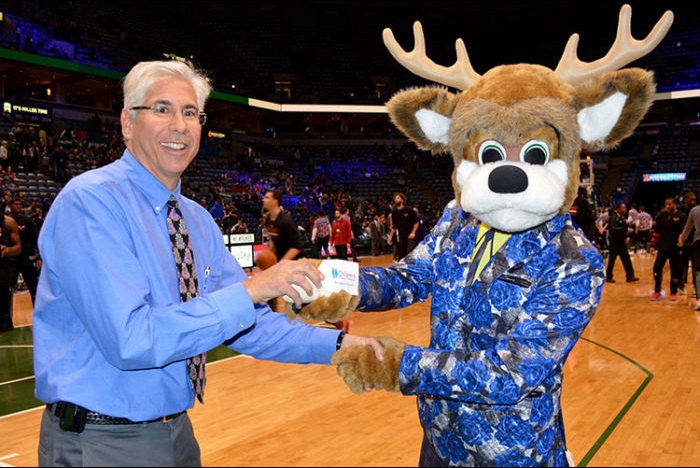 A full blown sensation
By the next morning, we had raised more than $41,000 from 397 donors in 37 states (plus Washington D.C. and Puerto Rico). We had a full-blown sensation on our hands. Children's Wisconsin was originally founded through community support, yet this country-wide outpouring was unprecedented. And we still had no idea what was to come.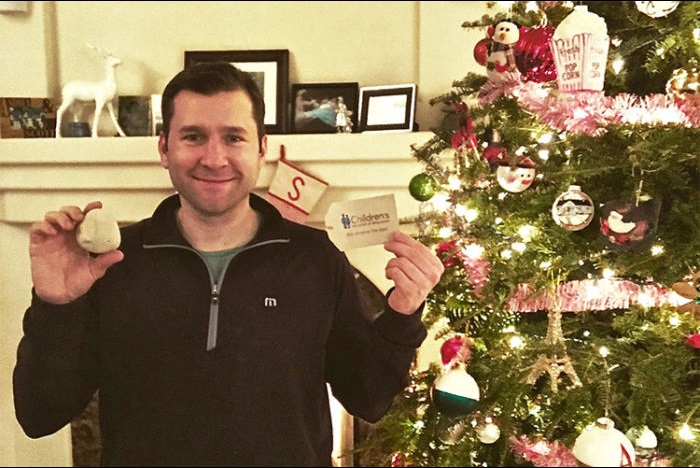 And then, the Nordstrom gift arrived
During the entire first week of the campaign, in the back of everyone's mind was Nordstrom. We had been in contact with the local store, but didn't know if word of the campaign had reached the corporate level yet. We hoped when it did they would take it in the good-natured manner we intended. We never meant any ill-will.
As it turns out, not only were they not offended, they were impressed. And they wanted to contribute. $50,000.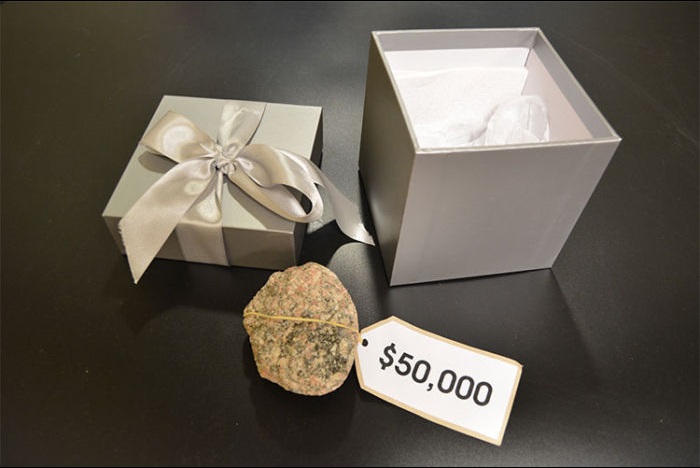 Breaking this news to Dr. Margolis was an opportunity the entire team wanted to fully enjoy and share. We quickly conceived of a plan to surprise him with the news on video and enlisted the help of 6-year-old Ben Hopkins and his parents, Toni and Zach.
Ben has aplastic anemia, a rare disorder in which the bone marrow doesn't produce enough blood cells, severely weakening the immune system. They drove nearly 900 miles from Tabernacle, New Jersey, specifically for Dr. Margolis. In the seven weeks they've been at Children's Wisconsin, they have forged a deep bond with him and we felt they were the perfect family to share this wonderful news.
When Dr. Margolis opened his little gray Nordstrom box, he was genuinely speechless. Anyone who knows him knows just how rare that is.
When the Nordstrom news broke on the morning of Tuesday, December 20, donations surged. More than $11,000 came in that day, followed by another $7,500 on Wednesday, pushing the overall total to $69,148.
With Nordstrom's contribution, Rocks for a Reason hit an astonishing $119,648.
In just 13 days.
We all shared in Dr. Margolis' speechlessness.
The power of generosity
In the week that followed, the Milwaukee Bucks got involved and contributed autographed rocks to be given to the 16 people who gave the biggest single donations, media stories ran across the globe and people continued to give generously.
As midnight struck on December 31, our Rocks for a Reason campaign came to an end. The final tally stood at $177,153.50 from 1,060 donors in all 50 states plus Washington D.C., Puerto Rico and Canada.
It's simply unbelievable.
We want to extend our deepest thanks to everyone who has made the Rocks for a Reason campaign such an incredible success. Thank you to Dr. Margolis. Thank you to Nordstrom. Thank you to Rademann Stone and Landscape Co. Thank you to the Milwaukee Bucks. And, of course, thank you to each and every one of the more than 1,000 donors.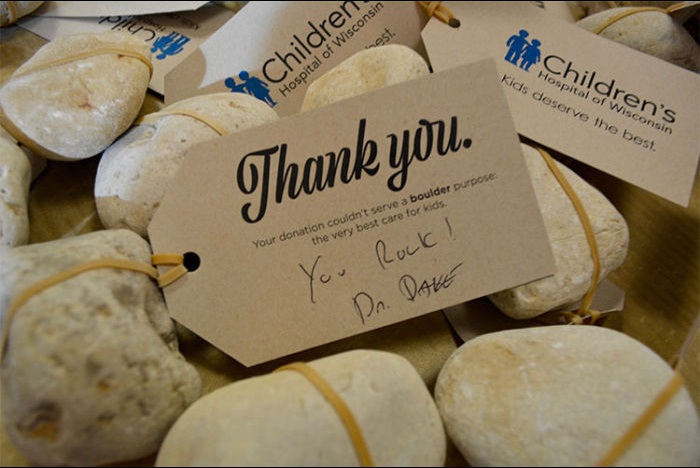 Rocks for a Reason and all its successes were built upon your selflessness and generosity. Every dollar makes a difference. What started off as a bit of fun will ultimately have a very serious impact on the lives of countless children.