Diabetes Sick Day App
This app helps caregivers or people with diabetes manage blood sugar levels and ketones during sick days, when managing diabetes can be difficult due to increased stress on the body.

Features
Answer a few simple questions on blood sugar levels, ketones and appetite, and the app provides next steps for managing your condition. Try it now!
Add the app icon to your home screen
For an Android phone
The directions are intended for Chrome browsers. Other browsers may have a different path to adding the app icon to your home screen.
1. Make sure your Chrome browser is showing the "Diabetes sick day app" page.
2. Click the three dots found next to the address bar.
3. Select "Add to Home screen".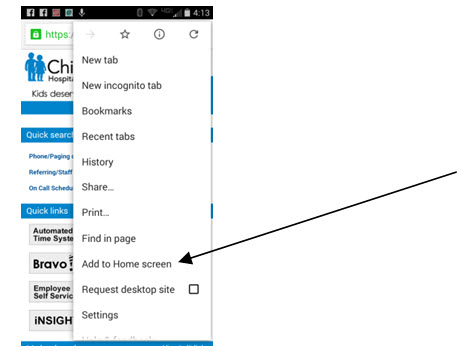 For an iPhone or Apple device
Click the arrow in the box found in the middle of the icons at the bottom of the screen:

Select "Add to Home Screen"