Effective CT use for concussions
Why we measure it: Our trauma specialists at Children's Wisconsin take concussions very seriously. Many centers regularly call for a computed tomography (CT) scan to assist with diagnosing a concussion. Although these scans can be useful in some instances, many times they are not needed. Our trauma specialists tend to use CT scans less often to correctly diagnose concussions compared to other centers, thereby reducing radiation exposure for our patients.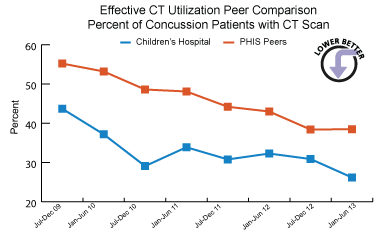 What this means: This graph shows the percentage of CT scans Children's used per quarter to diagnose concussions compared to other Pediatric Hospital Information System (PHIS) peers.
About the data: Our specialists consistently and effectively use CT scans less often to diagnose concussions than other pediatric centers. This reduces radiation exposure for our patients.
Related dimensions of care:




How we provide the best care
We have developed useful guidelines to reduce the number of CT scans in our trauma center. These guidelines are particularly helpful for treating patients with concussions. They also help to avoid unnecessary scans that don't result in a diagnosis and save families' time and money.
Many of our patients are referred to us from other centers that don't have the expertise or necessary equipment to best treat a concussion patient.
We work closely with our Sports Medicine specialists to provide continuous treatment and monitoring for child athletes who suffer from prolonged symptoms of a sports-related concussion.
Injury prevention
We provide injury prevention programs through our Children's Health Education Center, and are lead sponsors of Safe Kids Southeast Wisconsin, Safe Kids Wisconsin Coalition and Injury Free Coalition for Kids.
Always use a properly fitted care seat until children are 4 years of age and 40 pounds, a booster seat until children's are 8 years of age and 80 pounds, and a seat belt from age 9 through adulthood.
Wear a helmet when riding a bike, scooter, skateboard, skates or sled.
Always supervise your children during play to help prevent falls.
Make sure your child knows how to swim and never leave children alone in the pool or bathtub.
Make sure you have working smoke detectors on every floor of your house, especially outside bedrooms. Check the batteries twice a year.
Keep your water heater no higher than 120 degrees Fahrenheit.
Never leave small children alone in the kitchen or bathroom.
Keep appliance cords out of children's reach.
Children younger than 12 years old should not use a stove or microwave.
When camping, make sure to fully douse coals and keep children away from hot embers.