Emergency room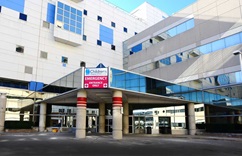 Visitor guidelines: As COVID-19 vaccination rates rise and infection rates fall, we continue to review and update our visitation procedures. Please review our latest guidelines before coming to any Children's Wisconsin location.

In our emergency department: Two adult visitors can accompany any child that is brought to our emergency department.

Surgical services at the Milwaukee campus and at our Surgicenter: Any patient having surgery at the Milwaukee hospital or Surgicenter will be allowed to have two adult visitors (and no siblings) accompany them.
____________________________________________________________________________________________________________________________
If your child is experiencing a medical emergency, call 911 for help now!
Children's Wisconsin is a Level I pediatric trauma center, providing the best care to all injured kids. The American College of Surgeons only grants Level I verification to hospitals that provide the highest quality of care and deliver injury prevention, research and education programs to professionals and the public.
Video: Why choose Children's Wisconsin for emergency care
The American College of Surgeons, in making the announcement, commended Children's on its continued commitment to provide quality care to all of its trauma patients.
Verified trauma centers must meet certain criteria. Key elements of a Level I Trauma Center status include:
Full-time, 24/7 availability of trauma surgeons and medical specialists and subspecialists
Availability of specialized facilities, including emergency services, and an operating room dedicated to and ready for trauma cases
Full-time staffing of neurosurgeons, orthopedic surgeons, and specially trained trauma nurses, as well as anesthesia services, intensive care units, rehabilitation services, CT, and other imaging facilities available for trauma patients at all times
The trauma center must have a trauma director, trauma registry, coordinator, outreach programs, and an organized research effort to help direct new innovations in trauma care
Children are not little adults. Their little bodies respond different to injuries, sickness and medical treatments. Our trauma team is dedicated to treating children. We have the knowledge and services needed to provide the best care for kids. And, if your child needs more, they have immediate access to pediatric experts in more than 70 specialties.

Some facts and figures:
More than 60,000 ER/TC visits are made each year
Before Children's nurses are assigned an ER position, they must have acquired at least 2 years of acute-care nursing experience
We receive the most critically ill and injured children and adolescents for care.
A co-payment will be collected at the time of service.
We've seen it all - thousands of times
We care for more injured kids than any other hospital in Wisconsin - from simple cuts and broken bones to complicated, life-threatening injuries. We see more than 60,000 patients in our Emergency Room/Trauma Center every year. Of those visits, more than 10,000 are for trauma and we admit approximately 1,000 of those patients to the hospital. 
Injuries we see are a result of things such as:
Motor vehicle crashes
Bicycle, skating, snowboarding, skiing and sledding crashes
Falls
House fires and other causes of burns
Violence
Poisonings
Animal attacks
Water accidents
Responding now to care for your child's immediate crisis
The trauma team in the ER treat the most critically injured patients 24 hours a day, 7 days a week. We respond to care for the child's immediate crisis. A pediatric trauma surgeon leads the team that includes pediatric nurses and physicians from the Emergency Room, critical care, transport team and operating room. Children's has a surgeon on call 24/7 to consult with care providers at other hospitals. 
Other team members include pediatric anesthesiologists, respiratory care practitioners, pharmacists, social workers, lab technicians, radiology technicians and security officers. 
Only the highest level of care 
The trauma medical director, an advanced practice nurse and quality improvement nurse monitor care of every injured patient. They discuss all the critical issues with the care team and refer patients to a trauma physician or a trauma committee made up of experts from multiple specialties to review and identify opportunities for improvement.
Minimizing radiation exposure
The Children's trauma program follows protocols developed to minimize radiation in injured children. We monitor the use of the protocols and have decreased the number of CT scans performed in children brought directly to Children's from the scene of injury by 10 percent in two years. In two years, we have increased adherence to guidelines by 31 percent. CT scans are performed according to our guidelines in 97 percent of patients brought to Children's directly from the scene of injury. If your child requires imaging tests like X-rays or a CT scan, we make sure your child is exposed to the smallest amount of radiation as possible.
We have the latest technology and equipment to offer the lowest doses of radiation. We shield and protect sensitive body parts from radiation. We check dose levels on equipment before each scan and inspect dose reports every month. Physicists adjust our equipment every year. 
If you want your child treated at Children's, ask your local hospital to transfer him or her before any non-urgent diagnostic care is provided.
Learn more about our Imaging Department.
Avoiding the operating room when we can 
More than 95 percent of pediatric spleen, liver and kidney injuries resulting from trauma can be treated successfully without going to the operating room. Children's meets or exceeds this benchmark. In fact, 95 percent of spleen injuries, 99 percent of liver injuries, and 100 percent of renal injuries are treated successfully without surgery.
Taking care of the psychological impact of injury 
Children's trauma team is concerned about the entire well-being of your child. A child can have emotional trauma or acute stress symptoms from any injury. We screen injured children for possible stress symptoms and teach you what to watch for at home. We offer psychology intervention as needed. 
We know that drug or alcohol use can increase the potential for injury. We screen your child for the risk for drug or alcohol use. Understanding that peer pressure pushes many children to use drugs or alcohol, we provide a brief motivational intervention to help them say "no."
We help prevent injuries from violence 
Our Trauma Center staff works closely with Children's Wisconsin Community Health - the lead agency for Safe Kids Wisconsin. We also work closely with the Injury Free Coalition for Kids. 
We help reduce the cycle of violence through Project Ujima, which focuses on breaking the cycle of violence by reducing the number of repeat victims.
Transport Team
Each year, our Transport Team brings more than 1,000 critically ill or injured children to Children's by ambulance, helicopter and fixed-wing plane.
Urgent care
Children's urgent care sites are the area's only walk-in clinics just for kids. The urgent care clinics are open nights and weekends when regular doctors offices are closed. Appointments never are needed.