Emergency room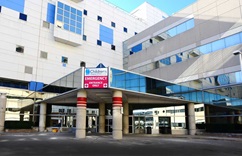 If your child is experiencing a medical emergency, call 911 for help now!
Head south onto 87th Street from Watertown Plank Road and follow the signs to the emergency entrance, which is located at the back of Children's Wisconsin.
Visitor guidelines
As COVID-19 vaccination rates rise and infection rates fall, we continue to review and update our visitation procedures. We miss having additional family members and siblings in our hospitals and clinics, and appreciate the continued commitment and partnership of our patient families and staff to provide a safe environment for everyone. Below are our current visitor practices:
In our Milwaukee and Fox Valley hospital patient care units
Patients without COVID-19: Two adults (age 18 and older) are allowed at the bedside at a time. Four adults are allowed on a patient's visitor list. These four names must remain the same for the entire stay. Siblings and visitors under age 18 are not allowed in hospital patient care units at this time.
COVID-19-positive patients: Only one adult is allowed at the bedside at a time. If there are extenuating circumstances, the patient care manager on call may give approval to allow more than one individual at the bedside. Two adults are allowed on a patient's visitor list. These two names must remain the same for the entire stay.
Specialty care, primary care, urgent care, labs, therapies, and community services – Two individuals may accompany the patient.
Surgicenter, Emergency Department Trauma Center (EDTC), Imaging, and surgical services on the Milwaukee campus – Two adults (age 18 and older) may accompany the patient.
____________________________________________________________________________________________________________________________
Emergency care made for kids
When emergencies happen, Children's Wisconsin is here to provide your child with the best and safest care — 24/7. Our emergency department and trauma center (EDTC) only treats kids and teens, offering a level of pediatric expertise and a reassuring, child-friendly environment you won't find at any other hospital in Southeastern Wisconsin. From simple cuts and broken bones to complicated, life-threatening injuries, we care for more injured kids than any other hospital in the state.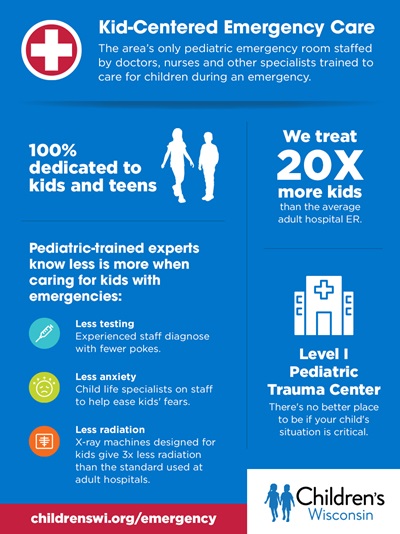 Pediatric experts
If your child needs emergency care, there's no better place to be than Children's Wisconsin. They'll have immediate access to pediatric experts in more than 70 specialties. Our highly skilled, compassionate team works together to ensure that your child receives the right care for their physical, emotional and developmental needs:
Board-certified pediatric physicians have additional training in pediatrics and pediatric emergency medicine. 

Child life specialists ease anxiety by distracting your child during exams, lab work and procedures such as stitches.

Nurses have specialized experience caring for kids in emergency situations. 

Lab and X-ray specialists ensure your family quickly gets the right answers while minimizing radiation and avoiding unnecessary tests.
Video: Why choose Children's Wisconsin for emergency care
Level I pediatric trauma center
Car crashes. Water accidents. Falls. Fire. Violence. When the worst happens, Children's Wisconsin's Level I pediatric trauma center is ready to swiftly respond to a child's immediate crisis. The American College of Surgeons only grants the Level 1 designation to hospitals that provide the highest quality of care and meet certain criteria. Led by a pediatric trauma surgeon, our trauma team includes pediatric physicians, nurses and other staff from the emergency room, critical care, operating room and transport team. The transport team, which brings more than 1,000 critically ill or injured kids to Children's by ambulance, helicopter and fixed-wing plane every year, provides ICU-level care before patients even arrive. Children's also has a surgeon on call 24/7 to consult with care providers at other hospitals.
Only the highest level of care
The trauma medical director, an advanced practice nurse and quality improvement nurse monitor care of every injured patient. They discuss all the critical issues with the care team and refer patients to a trauma physician or a trauma committee made up of experts from multiple specialties to ensure the best care.
Minimizing radiation exposure
If your child requires imaging tests like X-rays or a CT scan, we make sure that they're exposed to the smallest amount of radiation possible. We have the latest technology and equipment to offer the lowest doses of radiation — three times less than the standard doses at adult hospitals. If you want your child treated at Children's, ask your local hospital to transfer your child before any non-urgent diagnostic care is provided. Learn more about our Imaging Department.
Avoiding the operating room when we can 
We never want to put your child through unnecessary surgery. In Children's EDTC, 95% of spleen injuries, 99% of liver injuries and 100% of renal injuries are treated successfully without surgery.
Mental and behavioral health support 
We care about your child's entire well-being. We screen for acute stress related to injury and other emotional-behavioral issues, including suicide risk and drug/alcohol use, and offer mental/behavioral health support as needed. For kids who arrive at our EDTC in the midst of a mental health crisis, our mental health emergency response team is available 24/7 to provide immediate and coordinated assessment, referral and treatment, including post-discharge care for as long as needed.
Preventing future injuries
Our team works closely on prevention efforts with Children's Wisconsin Community Health, the lead agency for Safe Kids Wisconsin, along with the Injury Free Coalition for Kids. 
We also help reduce the cycle of violent crimes through Project Ujima, which supports youth victims of violence who come to Children's EDTC.
ER or urgent care?
Wondering if your child really needs to go the emergency room? Check this list for guidance. Children's Wisconsin offers the area's only urgent care walk-in clinics made just for kids. Our urgent care locations are open nights and weekends when regular doctors' offices are closed. We also offer urgent care video visits as a convenient option.