Medications and pregnancy
The risks involved with medication use during pregnancy:
When pregnant, a woman should always check with her physician before taking any prescription or over-the-counter medication. All medications affect the fetus differently, depending on the stage of development, the type and dosage of the medication being taken, and the drug tolerance of the mother-to-be.
Women who take medications for preexisting medical conditions, such as epilepsy or high blood pressure, should always check with their physician before continuing to use that medication while pregnant.
The US Food and Drug Administration (FDA) is reviewing its regulation of drugs for pregnant women. Unfortunately, there is little scientific information available about the effects of many medications on a pregnancy.
Always consult your physician before taking any medication during pregnancy.
Get a second opinion
(414) 240-1831
Watch: Fetal Q&A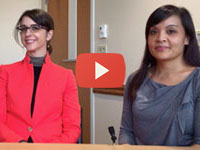 Answering questions about high-risk pregnancies, fetal diagnosis and fetal treatment. Learn more.