Oncology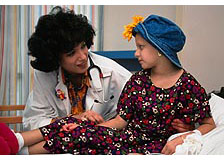 Although childhood cancer is rare, approximately 13,000 children under the age of 20 will be diagnosed with cancer this year. Cancer affects people of all age, sex, race, geographical location and social status. Oncology, the study of cancer and tumors, has made significant progress in the prevention, treatment and prognosis of many childhood cancers. Despite this progress, cancer is the third most common cause of death in children ages 1 to 19.

Pediatricians at Children's Wisconsin treat children with Ewing sarcoma, Hodgkin's Lymphoma and other cancers.Childhood cancer varies from adult cancers in development, treatment, response to therapy, tolerance of therapy and prognosis. In most cases, childhood cancer is more responsive to therapy, the child can tolerate more aggressive therapy and the prognosis is better.

The future direction of oncology involves genetic research and improved treatment options. Discovery of certain "cancer genes" has made significant breakthroughs in the study of cancer. Much more investigation into human genes and development are still needed to understand cancer.

No two patients or families are alike. It is impossible to address every issue or situation that will arise. The purpose of this module is to provide an overview of childhood cancer, how it happens, how it is diagnosed and treated, as well as what to expect and how to deal with it.
Contact us
Need more information or an appointment? We're happy to help.
For appointments, contact the individual programs within our MACC Fund Center for Cancer and Blood Disorders.
Get a second opinion
It's important to know what your options are. We can provide expert opinions to verify or give more information about an initial diagnosis. Contact us today.