Cellular therapy
Cellular therapy is the infusion of living cells into a patient. It harnesses a patient's own immune system to fight cancer and has emerged as the "fifth pillar" of cancer treatment, joining surgery, radiation, chemotherapy and molecularly targeted biologics. For the past 30 years, Children's Wisconsin has continually investigated and expanded therapies to offer patients cutting edge treatments to fight their cancer.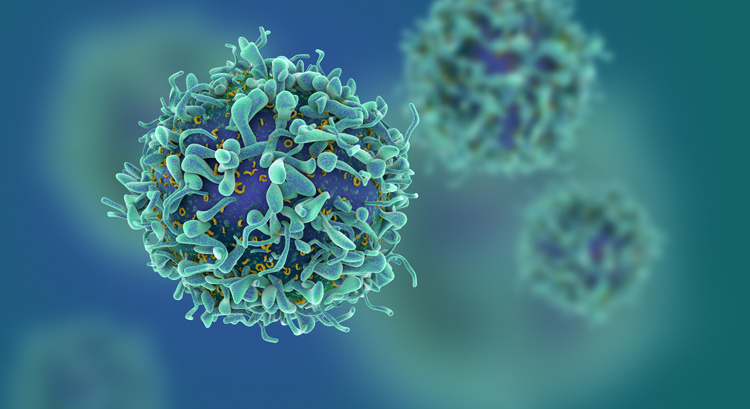 What is CAR T-cell therapy?
CAR T-cell therapy, or chimeric antigen receptor T-cell therapy, involves collecting a patient's own T-cells from their blood and genetically modifying those cells to recognize and destroy cancer cells. After these cells are modified in the lab, they are infused into the patient as a living drug. The modified anti-cancer cells then work to attack a specific protein on leukemia or lymphoma cells.

This innovative therapy has shown great promise in curing previously incurable patients with both refractory (has never gone into remission) and relapsed (has previously gone into remission, but later recurred) acute ALL and NHL.

What is Kymriah™ and who can benefit from it?
In August 2017, the FDA approved the use of CAR T-cell therapy, a new type of immunotherapy for the treatment of B-cell acute lymphoblastic leukemia (ALL) in children and young adults. In April 2018 the FDA expanded the use of this therapy to patients 18 or older with Non-Hodgkin Lymphoma (NHL). The name of this treatment is Kymriah™. 
Kymriah™ is a cell-based prescription drug made from a patient's own blood cells. It is intended for patients aged 25 and under who have either relapsed or refractory ALL.

The FDA recently expanded the use of Kymriah™ to include patients 18 and older with certain forms of relapsed or refractory NHL.

Children's has been involved in cellular therapy for decades. Our work includes engineering bone marrow grafts to remove the harmful T-cells that can effect transplant outcomes. Through a series of scientific protocols, we have refined our methods of performing T-cell depletion in order to make bone marrow transplants safer and more effective. Additionally, we infuse specific T-cells into patients to fight harmful viruses that can occur post transplantation, and harness natural killer cells for infusion into patients undergoing transplants for blood cancers and solid tumors. We meticulously innovate our treatments to offer patients advanced therapies to combat their cancer.
Children's is also one of the few hospitals certified to administer Kymriah™. This certification is supported by our decades of experience in immunotherapy and blood and marrow transplantation. Our extensive expertise managing patients throughout highly complex cancer treatment protocols makes Children's Wisconsin a leader in the care of children with the most difficult-to-treat cases of cancer.
Lab Research at Children's
Discoveries in the lab help us understand how cancer and blood disorders start and develop. Although lab research doesn't involve patients directly, it lays the foundation for new treatments. We use this understanding to create different, better ways of treating and curing cancer and blood disorders.
Children's researchers work in research facilities in affiliation with:
Children's Research Institute on our main campus

Blood Research Institute on our main campus

Labs of our partners – the Medical College of Wisconsin and Froedtert Hospital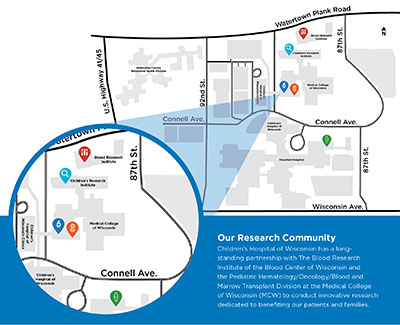 How soon can your child be seen?
At Children's, we understand that cancer treatment requires a swift response. During the intake process, we will work closely with you, your child's referring physician, and your insurance company to expedite the process and ensure a smooth transition for your child.

What other forms of immunotherapy does Children's offer?
It's important to know what your options are. We can provide expert opinions to verify or give more information about an initial diagnosis. Contact us today.