Patient stories
Johnathan's story
When Raquel was 26 weeks pregnant, at what was supposed to be a routine growth ultrasound, she received some difficult news. The technician identified abnormalities in the back of her son's brain. After being referred to Children's Wisconsin, Raquel met with members of our Neurosciences Center and Fetal Concerns Center. They confirmed a diagnosis of Dandy-Walker Syndrome, a rare brain malformation that can trigger many physical and intellectual issues. A fetal MRI also indicated that Jonathan had an underdeveloped eye.
After his diagnosis, Raquel and her husband prepared for an uncertain future, not knowing how much his diagnosis would affect him. When Jonathan was born on August 6, 2020, he needed a little help breathing. But he soon got the hang of it, and ever since he has not stopped growing and achieving more than anyone could have hoped.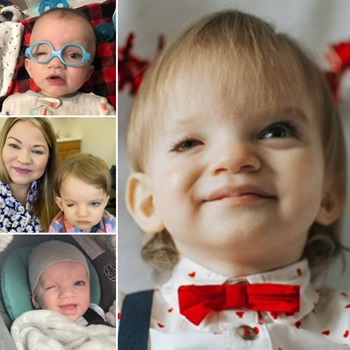 Today, Jonathan is 21 months old, and he continues to see numerous specialties through our DREAM (Developmentally Ready: Engagement and Achievement of Milestones) Clinic. He sees doctors in ophthalmology, neurology, endocrinology, dermatology and more. As Jonathan has grown with the help of his team at Children's Wisconsin, so, too, has Raquel. She said, "They have truly helped me grow as a mother of a medically complex child. All I see for the future is hope and amazing things for my beautiful son!"
Clifford's story
Despite a complicated and traumatic birth, 7-month-old Clifford is the happiest, smiliest little boy you'll ever meet.
During the emergency C-section at a nearby hospital, Clifford was without oxygen for several minutes, which resulted in a brain injury known as mild hypoxic-ischemic encephalopathy (HIE). Because of this, Clifford was transferred to the Children's Wisconsin NICU, where he spent four days being cared for by our specialists.
At his most recent visit, Dr. Samuel Adams, a pediatric neurologist in our Neurosciences Center, identified some potential signs of cerebral palsy, including low muscle tone and struggles with balance, control and reflexes. Clifford will continue to be seen regularly at Children's Wisconsin, and he'll start physical therapy to help build muscle and work on his motor skills. Despite it all, Clifford continues to work hard and makes progress every day. He recently learned how to clap his hands and he loves petting his dog, Milo.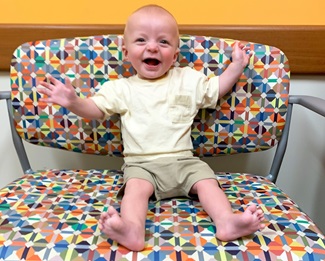 Mom said, "Our experience at Children's Wisconsin has been wonderful so far. Our family is beyond grateful. I spent a small chunk of time as a kid at Children's Wisconsin after having several surgeries due to an infection behind my eye. I still remember the care the nurses and doctors provided for me then and am so grateful it's still just as good now for my son."