Adam's story
Epilepsy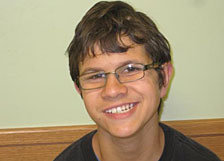 For several years, Patty and Alan Kettelhut of Nebraska say they lost their son Adam. It turned out that they would have to go all the way to Wisconsin to find him again.
Adam had a stroke when he was just a few days old, and although he seemed fine for a while, he started having seizures around age 3. They got progressively worse, to the point where he was "seizing all the time," and would go hours without speaking or communicating with anyone. Adam's personality virtually disappeared. The sweet boy who could memorize long poems when he was still in diapers was seemingly gone.
The family saw a neurologist in nearby Omaha, then went to St. Paul, Minn., where Adam was put on the ketogenic diet, which is aimed at treating epilepsy. Things got a little better, but the situation was still dire.
Life at home was tough for the family, who homeschools their five children. While they were used to being busy all the time with activities like field trips, volunteering, team sports and many others, none of that was possible while Adam was sick. "I could not make plans, because whenever I did, he would have a seizure and we would be in the hospital," Patty said. "So our life ground to a halt. Our kids' lives grounded to a halt, because we could never plan on being anywhere."
Adam was regressing quickly, both developmentally and physically. He was on so much medication that Patty said he couldn't be left alone because he sometimes couldn't walk without falling.
"He was dying," she said. "I really believe that."
They called Children's Wisconsin to speak to dietitians about how to improve Adam's treatment, but ended up being referred to one of the staff epileptologists. While appointments are usually made weeks in advance, Adam's condition was deemed urgent enough that he was seen just days later.
That meant a 10-hour trip from Ceresco, Neb., to Milwaukee. And it would only be the first of many as Adam would receive regular care at Children's, with sometimes both his parents and his four siblings in tow. But Patty said the other options she was exploring were in Boston and Los Angeles, so she was happy to have a place closer to home.
They kept coming back, because it was at the first meeting with their doctor at Children's when they heard the words that changed everything: "We are going to help you."
"It was amazing," Patty said. "She didn't say, 'We're going to try this' or 'We hope this works.' She said, ''We are going to help you.' I just broke down in tears. I could cry even today talking about it."
Adam still had a long, tough fight ahead of him. He underwent several surgeries that had varying levels of success before Sean Lew, MD, performed a hemispherectomy, a rare and drastic procedure in which part of the brain is removed. It was a frightening situation, but also exciting in that it might finally be the treatment Adam needed. The Kettelhuts firmly believed it was their last chance to help their son.
That was in January 2009. Adam has been seizure-free ever since.
Now 15, Adam still is catching up academically, but otherwise he's a happy, normal kid who loves school, playing baseball and - thanks to spending so much time in Wisconsin - the Green Bay Packers. It's an incredible change from what his life, and his family's life, was like before he came to Children's.
"Before he was seizure-free, he didn't have a favorite anything," Patty said. "He couldn't form a connection with anything. He didn't have a stuffed animal he loved, anything like that. His brain did not allow him to remember things or form attachment to hobbies. He was flat, he didn't have much personality. After the surgeries, it was kind of like getting to know him all over again. But everything came back. Especially his sweetness. He loves jokes, and tells us a new one every day."
Patty said, "Adam is also a big help around the house, doing chores, and just being a great brother to his siblings."
The family now only returns to Children's for Adam's annual follow-ups. And these are strictly happy occasions, as Adam's progress keeps getting better - he recently went completely off seizure medication, something that hadn't happened since he was a baby - and they get a chance to reunite with old friends. They stop and visit with his nurses and visits, making sure to take plenty of pictures.
The bond is so special not just because Adam got better, but because of how the whole family was treated at Children's.
"I always felt included with his care when we were there, and that my opinion mattered," she said. "I was listened to. I've been to a lot of places, and worked at a lot of places as a nurse, so it really says something that I didn't find somebody I could complain about."
All these years later, Patty said she is convinced that Children's saved her son. "He wouldn't have survived if he hadn't gotten surgery. They saved his life there."