Emily's story
Tourette syndrome
A couple years ago, Emily Shelby had a horrible Valentine's Day. She was hospitalized for a week, in the clutches of a dystonic tic that wouldn't let go, keeping her bent over in half with her knuckles dragging on the ground.

A dystonic tic is a movement disorder associated with Tourette syndrome, a neurological condition where the patient experiences involuntary, compulsive movements that follow a specific pattern. It's often sensationalized in pop culture and media coverage, focusing on the small percentage of cases that involve loud outbursts of profanity – one of the misconceptions Emily detailed in a recent blog – but it's largely associated with repetitive tics and other body movements.

While the hospital stay was an awful thing to go through, Emily was glad to be at a point where she finally knew what she was up against. For many years, Emily's tics, twitches, headaches and other symptoms were misunderstood and undiagnosed. Teachers and others wondered if Emily was faking it, because no one could explain just what in the world was wrong. But then one day at age 10, the Sheboygan girl and her family came to Children's Wisconsin to be seen in the neurology clinic, and Emily was told almost immediately that she has Tourette.

"Children's finally gave us a place to go where they understood exactly what was going on," said Emily, now 14. "My tics can wax and wane, and sometimes they're really bad when I'm stressed out. But if we call down there, they'll help us out. They've always been wonderful."

There is no cure for Tourette, so the treatment at Children's consists of first evaluating what level of disturbance, if any, the tics are causing kids at school or at home. If it's a minor enough case, doctors will just educate the child and family about Tourette or tics and explain what's going on.

If the tics do require treatment, then the first step is instituting Comprehensive Behavioral Intervention for Tics (CBIT), which trains patients in habit reversal. They learn how to manage, and even reduce, the symptoms by recognizing when a tic is about to come on.

In Emily's case, she benefitted from learning more about her tics, and also found a place in Children's that helped her get the right medication and dosage to keep them more at bay.

"I just feel calmer now, and on an even keel," Emily said.

During her hospital stay, Emily was seen by neurology specialists, and had access to experts in several different fields. The cooperation between the departments is a key component to Children's approach to care.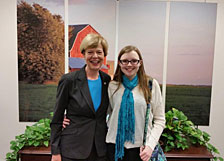 In the years since she first came to Children's, it would be an understatement to say that Emily has not let Tourette hold her down. Her tics occur far less than they once did, giving her a greater ability to focus and go about her everyday life. She's excelled academically, and has become a Youth Ambassador for the Tourette Association of America. She has visited schools across the state, letting educators know how to deal with Tourette in the classroom, and showing other kids with the syndrome that they're not alone. This spring she went to Washington, D.C., for the second year in a row, to advocate for Tourette awareness and funding for research. She met with congressmen and senators to lobby for federal funding to search for a cure and, and for the development of a medicine exclusively for Tourette.

"The people at Children's really changed my life," she said. "Tourette is still something I'm dealing with, but it doesn't stop me anymore."