Lilly's story
A mom shares her daughter's experience with epilepsy
By Mary Wolff

"It's happening!"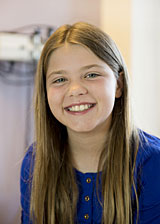 Our daughter Lilly raced up to my husband and I after our family dinner last Labor Day and showed us her thumb. She had been talking all summer about how her hands would sometimes fall asleep, and that things were happening to her body that she couldn't seem to control.

Matt and I then watched as Lilly's thumb rapidly twitched back and forth for about 45 seconds.

We made a doctor's appointment the very next day, but everything – including her blood work – came back normal. Still, we knew something was wrong. Matt has epilepsy, and while he is on medication that has kept him seizure free for years, we knew we needed to be alert for any signs or symptoms. Epilepsy and other neurological problems can run in the family.

As time went on, we kept track of her thumb twitches, usually logging about four to six per day. But things went to another level one night when Lilly was sleeping next to me and I woke up to her shaking. This wasn't just her thumb; her whole body was moving! While I was terrified, my instincts as a nurse kicked in and I timed what was going on, recording every detail I thought might be helpful later.

It was 2 a.m., but we headed to the hospital. Lilly was scared, of course, so I had to remain cool and calm for her on the outside, while on the inside I was feeling the horrible anxiety any parent would.

The next time Lilly had a seizure, Matt and I were both there. While we are both in the medical field – I'm a nurse, he's a paramedic – and have cared for many patients with epilepsy, nothing can prepare you for seeing it happen to your own child. I can honestly say it was one of the scariest moments of our lives. She was shaking uncontrollably, her eyes were rolling back into her head, and we were just praying it would end as quickly as possible. Almost a year later, it's still hard for us to talk about it.

We had wanted to bring Lilly to Children's Wisconsin from the very beginning, but were encouraged to see a local neurologist near our home in Omro. Yet after several months, a hospital stay and changes to her medication, Lilly was still suffering from frequent seizures. We decided to take matters into our own hands and went to the Children's website to fill out an appointment request. I didn't know when to expect to hear anything, so imagine my surprise when I got a call the following day.

In short order, my daughter's pediatrician was able to have a conference with one of the neurologists at Children's and we were told to bring her to the hospital right away. After so long feeling that Lilly's care wasn't what it should be, and that our concerns weren't being heard, it was incredible to see such a response.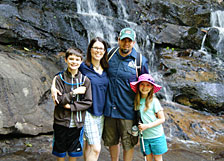 Thankfully, the good experience continued once we got to Milwaukee. From the moment we walked in the door, all the staff members were unbelievably kind and showed genuine concern for Lilly's well-being. Coming into such a (from our perspective) huge place, it was a relief to feel welcome right away.

We met with Dr. Hecox on Lilly's first full day in the hospital, and he put us at ease by talking to us not just about Lilly's symptoms but about Lilly herself. He addressed everyone in the room, including family members who were visiting. He also spoke to Lilly directly, hearing what she had to say and being able to understand what she maybe wasn't able to verbalize. He gave us all the information we needed to make decisions, but ultimately left everything up to us.

Then when it was time for us to leave the hospital, Dr. Hecox went over Lilly's treatment plan. Beyond the medical specifics, what really stuck out for us was the hope and encouragement he provided for our family. He reassured Lilly that even though she has epilepsy, she could still do everything other kids do. He told her she would have to learn how to listen to her body and that they would work together to keep her healthy. For us as parents, he was empathetic to what we were feeling, but also encouraged us to treat Lilly as the strong, beautiful girl she is and not as if she were just this fragile little thing.

For the first time since the diagnosis, we got clear direction and guidance on what we should do from here. It was a relief, and his words stick with us.

Lilly continues her fight against epilepsy, and we know there will be ups and downs. But overall, things are so much better than they were at the beginning. We are no longer worried about letting her ride her bike to the park or go swimming at a friend's house, because we remember not to treat her differently. Her strength is what has impacted our family the most.

We are so thankful to have the Children's neurology team on our side. There is no other hospital we would want fighting for our daughter.