The orthopedics team
Orthopedic conditions may be treated by your child's physician and/or other medical specialists and healthcare providers. Several physicians from different medical specialties may be involved in the treatment of one child at the same time. This multidisciplinary team approach is particularly important in managing the symptoms of an orthopedic condition, especially as many symptoms are chronic and change in severity over time. Some of the more common medical professionals involved in the treatment of pediatric orthopedic conditions may include the following:
Pediatrician or primary care physician
While your pediatrician or primary care physician may treat and/or diagnose your child's disease, he/she may refer you to a specialist for more specialized treatment of certain aspects of the disease.
Orthopedic surgeon
The physician who specializes in orthopedic surgery is called an orthopedic surgeon, or sometimes, simply, an orthopedist. Orthopedists are educated in the workings of the musculoskeletal system, which includes (but is not limited to) diagnosing a condition or disorder, identifying and treating an injury, providing rehabilitation to an affected area or function, or establishing prevention protocol to inhibit further damage to a diseased area or component of the musculoskeletal system.
The orthopedist may have completed up to 14 years of formal education. After becoming licensed to practice medicine, the orthopedic surgeon may become board-certified by passing both oral and written examinations given by the American Board of Orthopedic Surgery.
Many orthopedic surgeons choose to practice general orthopedics, while others specialize in certain areas of the body (i.e., foot, hand, shoulder, spine, hip, or knee), or in a specialized area of orthopedic care (i.e., sports medicine, trauma medicine). Some orthopedists may specialize in several areas and may collaborate with other specialists, such as neurosurgeons or rheumatologists, in caring for patients.
Rheumatologist
A rheumatologist is a physician who specializes in the treatment of arthritis and other rheumatic diseases that may affect joints, muscles, bones, skin, and other tissues. Most rheumatologists have a background in internal medicine or pediatrics and have received additional training in the field of rheumatology. Rheumatologists are specially trained to identify many types of rheumatic diseases in their earliest stages, including arthritis, many types of autoimmune diseases, musculoskeletal pain, disorders of the musculoskeletal system, and osteoporosis. In addition to four years of medical school and three years of specialized training in internal medicine or pediatrics, a rheumatologist has had an additional two or three years of specialized training in the field of rheumatology. A rheumatologist may also be board certified by the American Board of Internal Medicine.
Physical therapist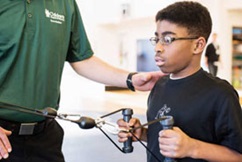 Physical therapy is the health profession that focuses on the neuromuscular, musculoskeletal, and cardiopulmonary systems of the human body, as these systems relate to human motion and function.
Physical therapists, or PTs, are very important members of the healthcare team. They evaluate and provide treatment for children with health problems resulting from injury, disease, or overuse of muscles or tendons.
Physical therapists have an undergraduate degree in physical therapy, and many have a Master's degree. In order to practice, all graduates must be licensed by their state by passing a national certification examination.
There are more than 90,000 physical therapists practicing in the US today in a variety of settings, including:
Hospitals
Rehabilitation centers
Home health agencies
Schools
Sports facilities
Community health centers
Private practice
As related to orthopedic conditions, physical therapists provide comprehensive training that includes, but is not limited to, the following:
Functional mobility
Balance and gait retraining
Soft-tissue mobilization
Body mechanics education
Casting and splinting
Wheelchair safety and management
Neuromuscular re-education
Exercise programming
Family education and training
Assistance with pain relief and management
Instruction in safe ambulation
Occupational therapist
Occupational therapy is a healthcare profession that uses "occupation," or purposeful activity, to help children with physical, developmental, or emotional disabilities lead independent, productive, and satisfying lives.
An occupational therapist often coordinates the following in the care for the individual with a debilitating condition, such as an orthopedic condition:
Evaluating children with developmental, neuromuscular problems in order to plan treatment activities that will help them grow mentally, socially, and physically.
Assisting children in learning how to carry out daily tasks.
Conducting group or individual treatment to help children in a mental health center learn to cope with daily activities.
Recommending changes in layout and design of the home or school to allow children with injuries or disabilities greater access and mobility.
Occupational therapists work in a variety of different settings, including:
Hospitals
Rehabilitation centers
Schools
Home care agencies
Private practice
Government agencies
Podiatrist
A podiatrist specializes in foot care and is licensed to prescribe medication and perform surgery.
Nurses
Nurses specialized in the care of orthopedic conditions may assist your child's physician in providing care. In addition, these nurses will help you to understand your child's treatment plan and can answer many of your questions.
Get a second opinion
It's important to know what your options are. We can provide expert opinions to verify or give more information about an initial diagnosis. Contact orthopedics today.