After a sports injury, kids and teens need specialized treatment designed just for them. The Sports Medicine Program at Children's Wisconsin helps young athletes get and stay healthy. Our team of physicians, pediatric orthopedic surgeons, athletic trainers, psychologists, nutritionists, and advanced practice providers are 100% focused on caring for young athletes.
Why choose our pediatric Sports Medicine Program?
To speak with a sports medicine expert or request an appointment, call:
(414) 604-7512
Licensed athletic trainers and nurses are available 8 a.m. to 4:30 p.m., Monday through Friday. You can leave a message anytime, and your call will be answered as soon as possible.
Request a speaker from our orthopedics and sports medicine team.
Growth plates: Why choose us?
If growth plates don't heal properly, it can lead to long-term problems.
About orthopedic surgery
Watch Dr. Lyon discuss pediatric orthopedic surgery at Children's Wisconsin.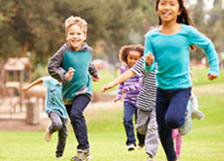 Why pediatric experts are best equipped to treat growth plate fractures in children.