Community services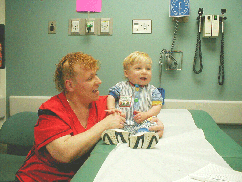 Private duty nurse (PDN)
A child with a trach often needs round-the-clock care by caregivers trained in routine and emergency trach care. There are other resources and persons are available to help you at home.
One home resource is your PDN. Children with trach tubes can often – through state funding or a private insurance plan – receive private duty nursing care in the home.
PDNs are registered nurses (RNs) or licensed practical nurses (LPNs) who may be independent nurse providers through the state or they may work for a home care-nursing agency. The PDN works with your child to provide care in your home for eight or more hours every day. This allows you to return to work, care for your other children and keep up with events and every day activities.
The advanced practice nurse (APN) managing your child's care and the Inpatient Case Manager planning your child's discharge will work with you to decide the schedule of a PDN that will be most beneficial for you. Before your child goes home, you will meet the PDN and/or agency taking your child's case and confirm the home schedule.
Questions to ask before hiring a private duty nurse
Resources for private duty nursing
Nursing agencies

Home respiratory equipment
Durable medical equipment (DME) provider

Because your child will need a humidification system, suction equipment, trach supplies, and maybe a ventilator machine at home, you will work with a DME provider.

Your DME will provide the equipment and supplies for your child at home.

The Home Care Respiratory Therapist for the trach team will work with you and your insurance company to decide which DME provider will best meet your needs. Before your child goes home, all your child's equipment and supplies need to be delivered either to the hospital for Independent Cares or to your home. You may ask the DME provider to name one contact person who knows about your child's equipment to help you with phone calls, questions, and ordering supplies from home.
The DME provider may also have a Respiratory Therapist to assist you in setting up and troubleshooting problems at home. The DME provider works closely with and maintains communication with our Respiratory Therapist and your child's doctor as changes in your child's respiratory equipment, humidification system, and oxygen are needed.

Local Milwaukee area and surrounding county DME providers:
Home therapies
Our social workers will work with local area physical, occupational and speech therapists to initiate community services for those children who qualify for birth to three outpatient therapies. If the child is older than three, we will work with our speech therapist and local school services to arrange for therapies to be provided at the child's school or local outpatient setting.
School services
Every child with a tracheostomy and home ventilator is able to attend school. A home nurse, trained in the care of a child with a tracheostomy and/or home ventilator, who will remain with the child 1:1 while in school is necessary for a safe environment while at school or on field trips. Our team will discuss this nursing plan with school staff as needed. We are also willing to provide additional training or education for school staff as requested. We also are willing to participate in IEP review meetings as needed to discuss medical and therapy needs.