Physician liaisons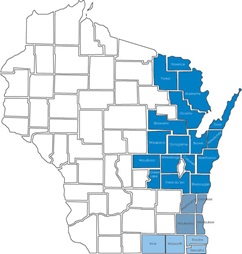 Our physician liaison team is dedicated to developing and maintaining relationships with referring providers.
Meet our liaisons
Serve as a link between Children's Wisconsin and referring providers
Provide information about Children's Wisconsin services and programs, including continuing education opportunities
Facilitate solutions to referral issues
Outside a physician liaison territory
Providers located out of our physician liaison territories; contact Physician Support Services at (414) 266-2310.
Resources
Referring physician portal, an online view of clinical information (lab results, radiology reports, documentation, visit history, home medications) for patients seen at Children's Wisconsin
Full list of resources, visit childrenswi.org/medical-professionals. 
Refer a patient
To refer a patient, contact Central Scheduling.
(414) 607-5280
Fax: (877) 607-5288
Toll-free: (877) 607-5280
Physician consultation line
Staffed 24 hours a day.
Refer a patient
Discuss a case
Arrange a transport
Direct admission
(414) 266-2460
Toll-free: (800) 266-0366