25th annual 96.5 WKLH Miracle Marathon for Children's Wisconsin raises more than $1,028,000
---
Thanks to the generous support of Dave Luczak and Dorene Michaels of the Morning 'KLH, WKLH listeners and donors throughout Southeast Wisconsin, the 25th annual WKLH Miracle Marathon for Children's Wisconsin presented by Mars Family Foundation raised more than $1,028,000.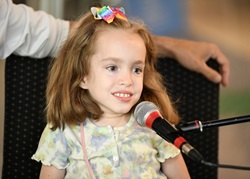 WKLH broadcast the two-day, 36-hour radiothon live from Children's Wisconsin May 18-19. The radiothon is one of the highest-grossing fundraisers for Children's Wisconsin and has raised approximately $29 million since its inception in 1998.
Funds raised through Miracle Marathon support vital Children's Wisconsin resources and services. Throughout the two-day radiothon, WKLH listeners heard from more than 30 patient families along with hospital caregivers, leaders and staff members who brought to light many of the Children's Wisconsin programs and services that impact the health of thousands of children in Wisconsin and beyond each year.
"We're thrilled to celebrate 25 years of this fabulous event, made possible by our steadfast partners at WKLH and the generosity of our community. Support from this event enables Children's Wisconsin to provide the best and safest care for the kids and families we serve through comprehensive care and groundbreaking research and innovation," said Meg Brzyski Nelson, president, Children's Wisconsin Foundation. "We couldn't be more grateful."