Seven books to help you celebrate Black history with your children
---
Black History Month is a time to celebrate and highlight the important work of African Americans in our American history. No matter your family's background, this is a great time to have conversations with your children and learn about a rich and vibrant culture — as well as the importance of understanding what makes everyone different. 
Just because a month is set out to highlight Black history, that doesn't mean we can't and shouldn't continue to learn about Black culture 365 days a year. Below you will find a few of my favorite books that can help you begin those conversations and share this rich history with your children and family.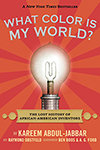 What Color is my World? The Lost History of African American Inventors
By Kareem Abdul-Jabbar
Age: 4-8 years
From Fred Joes and refrigerated trucks to James West and the cell phone microphone, the groundbreaking inventions of African Americans fill our daily lives. Written by basketball legend Kareem Abdul-Jabbar, this is a funny story that sheds light on some of history's greatest minds.

Little Leaders: Bold Women in Black History
By Vashti Harrison
Age: 8-12 years
Chemists, mathematicians, pilots, poets and filmmakers, this book highlights 40 incredible Black women in American history and the contributions they made that still impact our lives today.



Little Legends: Exceptional Men in Black History
By Vashti Harrison
Age: 8-12 years
From renowned author James Baldwin to musical pioneer Prince, civil rights leader John Lewis and filmmaker Oscar Devereaux Micheaux, this book features biographies of some of the most influential and legendary Black men in history. 

If You Were a Kid during the Civil Rights Movement
By Gwendolyn Hooks
Age: 7-9 years
This is the story of two young girls in the middle of a civil rights demonstration in the 1960s. Written in an approachable, kid-friendly manner, this book is a great introduction into the civil rights moment and how the fight for equality continues to this day.

Skin Like Mine
By LaTashia M. Perry
Age: 1-12 years
A fun and creative celebration of diversity for young children. Using food as a metaphor, this cute and heartfelt book celebrates our differences and teaches the importance of not only accepting others, but loving yourself as well.

Let the Children March
By Monica Clark-Robinson
Age: 6-9 years
The story of a young Black girl in Birmingham, Alabama in the 1960s. After hearing a speech by Dr. Martin Luther King Jr., she decides to march for civil rights. Despite the angry crowds and her growing fear, the little girl refuses to give up fighting for what's right.  

The Colors of Us
By Karen Katz
Age: 4-8 years
This fun celebration of our differences and similarities, this is the story of a 7-year-old girl who wants to paint a picture of herself. But when she tries to pick out brown paint for her skin, she learns that there are many different shades to choose from. This book teaches the lesson that there is beauty in our differences and that diversity is to be cherished and celebrated. 
These books and many others are available at the Milwaukee Public Library. They also have a series of virtual programs for kids of all ages to help celebrate and recognize Black History Month.