Children's Wisconsin raises $1.7 million to expand dental program with support from Delta Dental
---
Lici has a one-of-a-kind smile. And that's not the only thing that makes her unique. She is also only the fourth person in the world to be diagnosed with a genetic mutation known as the CAMK2B gene. It means Lici has global delays, uses a wheelchair and has to be fed through a J-tube overnight. But Lici is so much more than her rare disease. She also loves playing with her sister, listening to music and going for walks. And her dental team at the Children's Wisconsin Dental Center understands all those things that make Lici special.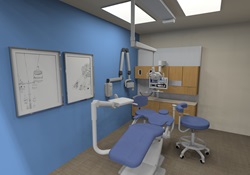 That's why Children's Wisconsin is excited to announce the success of the Healthy Smiles Healthy Kids Challenge. More than $700,000 has been raised to meet the challenge grant created by a donation from Delta Dental of Wisconsin Foundation. 
Combined with Delta Dental's $1 million commitment, this brings the total raised to $1.7 million. These funds will support the expansion of the Children's Wisconsin Dental Center and help to provide more training to support the dental care of pediatric patients with special needs. The majority of the money raised will support a brand new dental office on the Children's Wisconsin Milwaukee campus, which will go from 13 existing exam chairs to 19.   
The new space will also include a low sensory waiting area and exam rooms. Low lighting, soft design and attention to sensory details (spacing of chairs, textures of materials, calming music and minimalistic design) will offer patients and families an escape from the sensory overload of the larger reception area. 
Part of Delta Dental's commitment will also support the expansion of Children's Wisconsin pediatric dental residency program. Training additional dental students will allow the dental program to provide more dental procedures than is currently possible. Children's Wisconsin is the only program in the state that provides a pediatric dental residency rotation. 
"It means a lot to us that we can work with Children's Wisconsin to help expand dental services, especially to kids who are in the most need," said Dennis Peterson, president of the Delta Dental of Wisconsin Foundation. "Beyond the expansion of the physical space, we are also excited to see more future dentists, committed to the oral health of kids, get trained right here in Wisconsin." 
Children's Wisconsin is one of the largest providers of pediatric dental care for vulnerable populations in the state, seeing approximately 22,000 visits every year across four locations. More than 90 percent of those who receive dental care at Children's Wisconsin are covered through Medicaid. Many of those patients are kids with special medical needs or a disability. As one of only a few dental programs serving the region's most vulnerable kids, as many as 4,000 new patients are waiting for appointments. 
"The need for dental care is great, particularly for kids and families with special medical needs or who are covered by Medicaid," said Lori Barbeau, DDS, medical director of the Children's Wisconsin Dental Center. "We're so grateful to the Delta Dental of Wisconsin Foundation for partnering with Children's Wisconsin so we can serve even more patients who need us."
Work on the new clinic is expected to start at the end of 2023, with the new space opening to patients in 2025. Children's Wisconsin Dental Center provides services at four locations. In addition to the space on the Milwaukee campus, the program provides services at the Children's Wisconsin Forest Home, Midtown and Next Door clinics.