Braids not burns: How to dip and seal braids safely
---
On the day after Christmas in 2021, then 5-year-old Jaida was getting her hair braided by her older sister, Jackie. Jaida loved getting her hair braided, and Jackie loved doing it. 
While braiding can take hours to complete, it's a common style in African American culture as it does not require the use of chemicals or daily heat to maintain. It's considered a protective style that can last for months at a time.
Once Jaida's hair was braided, her mom, Elizabeth, filled a metal pot with water and set it on the stove to bring it to a boil. In order to achieve a clean, relaxed look and prevent the braids from unraveling, the ends of the hair need to be sealed by submerging them in hot water. This is the crucial, final step of braiding hair called "dipping."
Once the water reached a boil, Elizabeth turned the heat off and let it sit for about five minutes to cool. As she has done countless times before with her two girls — and her mom often did with her — Elizabeth held the pot over the sink while Jaida got in position to lean back and dip the ends of her freshly braided hair in the water.
However, this time, as Jaida leaned back, hot steam bellowed from the pot and startled her. She jumped up, causing her mom to drop the pot and spill the scalding water on both of them. 
Jaida started screaming and Elizabeth jumped into action. She removed Jaida's hot, wet clothing while she yelled to Jackie to grab their things as they needed to get to the hospital as quickly as possible. 
Quick action and expert care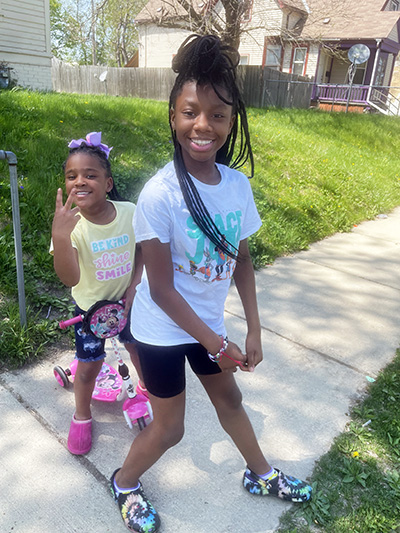 A hospital near their house assessed Jaida's burns and quickly called an ambulance to take her to Children's Wisconsin. Jaida arrived at Children's Wisconsin around 5 p.m. and was immediately given medicine that made her sleepy and helped ease the pain. 
The boiling hot water had spilled on more than 18 percent of Jaida's body, burning her back, arms and waistline. Elizabeth also received burns to her fingers, but nothing serious.
"We have recently seen more of these injuries than we ever have before," said Barb Riordan, BSN, RN, a nurse clinician in the Children's Wisconsin Burn Program. "They have deep burns that involve a large body surface area. All of these patients required several trips to the operating room and an inpatient stay of several days."
Jaida's burns ranged from second degree to deep second degree, and she needed a total of four surgeries in the two weeks following her injury. She ultimately spent nine days in the hospital and had several follow-up appointments to check on how she was healing and have her dressings changed. 
Doctors said Jaida would be out of school and activities for a while, but she was back to her normal ways after a week. And today, she's doing great. She knows to be cautious when she is near hot water or lighters and she still allows her mom to dip her hair. 
"But we do it in a safer way," said Elizabeth. "We make sure we are very careful and have all of the materials we need before we begin, like dry cloth towels and I dip her braids into a smaller coffee cup now. And I make sure to let the water cool down. The water does not have to be piping hot." 
Despite how scary and traumatic the situation was, Elizabeth was happy with the services that she received through Children's Wisconsin. "They were all very nice and made us all feel comfortable."
Safety first
If you choose to use the hot water dipping method, always have a parent or caregiver present to assist. The following items can also decrease the risk of scald burns:
Water-proof cape. Drape it over their shoulders to cover the upper half of their body to create a barrier of protection.


Thick cloth towel. Place a thick, cotton towel over the water-proof cape. 


Gloves. Do not use towels to pick up hot pots or kettles as they can become tangled, causing the boiling water to slip and spill. Instead, use thick gloves during this process.


A safer pot. Use a cup or kettle with a handle for gripping so you have better control over the hot water. 
Here is a handy poster you can download with these safety tips. 
Safe alternatives
As Elizabeth and Jaida know all too well, no matter how careful you are, accidents can happen. The Children's Wisconsin Safety Center recommends these alternatives to hair dipping. 
Knots are a safe option to seal off ends, which you tie toward the end of the braid. A slipknot is a small unnoticed knot, which you also tie at the end of the braid. The biggest advantage of a slipknot is that it is almost invisible and interlocks neatly with the braid to give the same effect as using hot water.
Another alternative is just a regular hot shower. This method will allow the braids to become relaxed and can be just as effective as using the hot water dipping method.