Volumes and transparency: Why they matter to pediatric heart patients
---
The New York Times recently featured an investigation into the pediatric heart program at a North Carolina Children's Wisconsin. This isn't the first time that news investigations have highlighted the importance of volumes on surgical outcomes.
Why volumes matter
Simply put, the more you do something, the better you get at it. This is as true for heart surgery on a child as it is for playing the piano. I am not familiar with nor have direct information about what happened at the hospital in North Carolina. And there is simply no way of knowing if individual outcomes would have been different had kids been treated at a different hospital. But it reinforces a message that is critical for patients, families and providers.
Surgical volumes, especially when treating the most complicated cases on the smallest of patients, makes a difference. Standards by the Society of Thoracic Surgeons sets the minimum surgical volume for a top-tier heart program at 250 cases a year. During the last four years, the Herma Heart Institute at Children's Wisconsin has averaged more than 350 surgeries a year.
The correlation between the number of procedures and improved outcomes is well documented. In addition, with higher volumes hospitals are able to attract experienced and successful surgeons and staff, creating a team where multiple members have experience with complex cases. This success allows programs to invest in new technology and to participate in research studies, furthering their ability to care for kids with complex heart issues.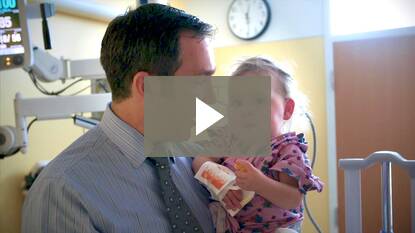 Competition doesn't lead to better outcomes
The percentage of kids born with congenital heart defects is fairly stable. This means we have a pretty good idea the number of kids who will need life-saving heart surgery. If two hospitals compete for these cases, the result is that surgeons at both hospitals do fewer cases.
This is why the Herma Heart Institute and most leading pediatric heart programs share surgical outcomes with the Society of Thoracic Surgeons. We also post our data publicly right on our website so that anyone — most importantly families — can review them. Surgical outcomes don't tell the full story and families shouldn't rely solely on them to decide where to have their child treated. However, outcomes are an important factor, and if a program doesn't publically report its outcomes, a family should ask questions to understand why.
To aid any family dealing with the possibility of heart surgery for a child, the Herma Heart Institute strongly supports the efforts of the Pediatric Congenital Heart Association (PCHA) in encouraging hospitals be more transparent with sharing their outcomes. This has included partnering with the PCHA as it developed the Guided Questions Tool to help families evaluate heart programs. Children's Wisconsin was one of the first hospitals to proactively provide answers to the questions.
What is best for kids — in Wisconsin and beyond
Here in Wisconsin, families are fortunate that most of the complex heart surgeries are done at Children's Wisconsin. Our Herma Heart Institute specialists are nationally recognized as some of the best in the nation. In speaking with my peers across the country, many are surprised and admire the program we have built here in Wisconsin. In a state with a population as small as ours, it isn't a given that we would have a program with the breadth and depth that we have. But because hospitals across the state and region refer to the Herma Heart Institute, complex or not, we are able to maintain a strong and vibrant program.
This most recent case in North Carolina is an unfortunate reminder that we all must be committed to doing what is in the best interest of kids and families, and continue to push for transparency and high-volume programs to ensure the best care for kids.