Children's Wisconsin named "Top Hospital in Innovation and Technology"
---
Children's Wisconsin was included in Parents Magazine's 2021 list of Top 15 Children's Hospitals in Innovation and Technology.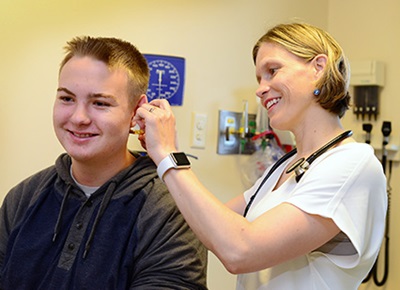 Katja Kovacic, MD, pediatric gastroenterologist at the Children's Wisconsin's Gastroenterology, Liver and Nutrition Program, was recognized for her pioneering use of auricular neurostimulation to treat kids with severe abdominal pain and nausea. For kids suffering from cyclic vomiting syndrome, irritable bowel syndrome and other chronic stomach pain, auricular neurostimulation treatment delivers tiny amounts of electrical impulses to nerve branches in the ear through a device placed on a patient's ear.
Prior to Dr. Kovacic's groundbreaking work, kids with these often debilitating conditions had few treatment options. But now, these kids are finding life-changing relief. In fact, of all the patients to receive this treatment, 65 percent reported improvement in their symptoms — nausea, abdominal pain and headache intensity. The treatment for use in irritable bowel syndrome received FDA approval in June 2019.
To read the full list, please visit the Parents Magazine website.