Food label refresh helps make healthier food choices easier
---
Next time you walk down the grocery aisle, you might notice something new. Food labels are getting a makeover. After years of nutrition research, the U.S. Food and Drug Administration (FDA) is updating food labels to make it easier to make informed decisions about foods and drinks. The new labeling accounts for changing serving sizes, nutritional needs and better disclosure of certain food ingredients like added sugars.
Here are some of the changes you will see on food labels: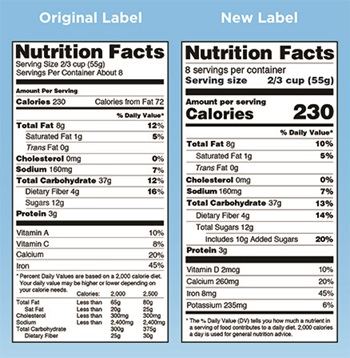 Servings per container and serving size are now in larger type and more accurately reflect how people consume food and drinks. As a result, calories have been adjusted. For example, a 20-oz bottle of soda was previously considered two servings. Since many people consume the entire bottle, the soda label now indicates one serving and adjusts the amount of calories and sugars.
Calories are now in a larger type and no longer include calories from fat. The calories tell you how much energy a food gives the body.
The Daily Values for nutrients have been updated based on new scientific evidence. The Daily Values are reference amounts of nutrients to consume or not to exceed each day and are used to calculate the % Daily Value.
Added sugars are now required on the label. This means sugars that are added during the processing of foods versus those that occur naturally, like in milk or fruit. You might be surprised to learn just how many added sugars are in some foods like yogurt, sweetened drinks, cereals, pasta sauces and salad dressings. Current guidelines are to consume less than 50 grams of sugar per day for a 2,000-calorie diet.
Vitamin D and potassium are now required on the label because many Americans do not get the recommended amounts.
Vitamins A and C are no longer required since deficiencies of these vitamins are rare today.
As important as food labels are for parents as they shop for their families, teach your kids to read food labels, too. By understanding and paying attention to what's in their food, kids can learn to make healthier choices from an early age.