Reconozca a alguien en Children's Wisconsin
Children's Wisconsin se esfuerza en brindar la mejor y más segura atención y experiencia a nuestros pacientes, clientes y familias. Hay dos maneras de reconocer a nuestro personal: un Bravo! High Five o la nominación para el Premio DAISY (para enfermeras).
Bravo! High Five

Si desea reconocer a un doctor, proveedor, voluntario u otro miembro del personal (que no sea una enfermera) en Children's que haya marcado la diferencia en su experiencia, dele un Bravo! High Five.
El reconocimiento de enfermeras para el Premio DAISY
Si desea reconocer a una enfermera extraordinaria de Children's para el Premio DAISY, llene el formulario abajo con la mayor cantidad de información posible.
El formulario de nominación para el Premio DAISY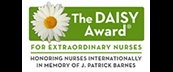 Los galardonados con el Premio DAISY demuestran excelencia a través de su conocimiento de enfermería y atención compasiva. Son modelos excepcionales en nuestra comunidad de enfermeros.
Una enfermera merecedora del Premio DAISY:
Me cuida o cuida a mi hijo de una manera muy especial
Me trata o trata a mi hijo como si fuéramos familia
Me mantiene a mí o a mi familia actualizados
Me incluye de una manera especial en mi cuidado o el de mi hijo
Explica las cosas de manera que todo tiene sentido
Toca mi corazón de una forma que no olvidaré
Go to MyChart
If you are a registered user or have an access code you want to use, go to MyChart.