Become a foster or adoptive parent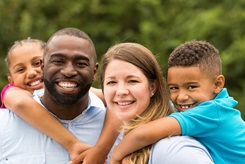 The need for foster care parents in Wisconsin is great. As many as 100 children are removed from their homes each month because they are not safe. At any given time, 6,000 children are in foster care in Wisconsin.
We see heroes among the thousands of foster and adoptive parents in Milwaukee and throughout the state of Wisconsin. These everyday heroes are doing their part to better the lives of children and families in any way they can.
Do you have what it takes to be a Kid Hero in your community? No superpowers required.
Contact us to request information
Complete the form below to receive information from Children's Wisconsin Community Services about becoming a foster or adoptive parent for a child in Wisconsin.