Milwaukee Hospital-Children's Wisconsin
Main Phone

(414) 266-2000
Temporary child visitor restriction
In our Milwaukee Hospital, visitor lists are limited to two adult parents/caregivers only. These two names must remain the same for the entire stay. These two individuals are allowed to be at the bedside (for overnight and extended stays only) at the same time. Allowing them both to be here at the same time promotes the family-centered care we are committed to and provides additional support at the bedside, particularly for long hospital stays. We are still able to maintain low numbers of visitors with this policy, which helps reduce the risk of exposure to COVID-19. Exceptions will be made for some situations that could include end-of-life and caregiver teaching and educational sessions.
In our emergency department: Two adult visitors can accompany any child that is brought to our emergency department.
Surgical services at the Milwaukee campus and at our Surgicenter: Any patient having surgery at the Milwaukee hospital or Surgicenter will be allowed two have two adult visitors (and no siblings) accompany them.
In all of our urgent, primary, and specialty care clinics, and in our imaging department: Only one caregiver (and no siblings) will be allowed to accompany a child to an appointment. If siblings have back-to-back appointments, you can contact the clinic to ask if an exception to the rule can be made.
This will help us reduce the number of people coming into our facilities.
Two important construction notices:
We've begun a multi-year construction project on our campus. Learn more about our Milwaukee Campus Improvement Project.
Reconstruction of 87th Street has also started. This project will last two years and will improve traffic flow and overall safety for drivers, pedestrians and bikers. This will not affect access to our Emergency Department/Trauma Center.
Ramp closures on the Milwaukee campus:

To complete some work for the Zoo Interchange Project, there will be temporary closures for some system ramps beginning Sunday, April 25:
I-94 East to I-41 South to close for 4 weeks
WIS 100 entrance ramp to I-41 South to close for 4 weeks
WIS 100 entrance ramp to I-94 East and I-41 North to close for 2 weeks
Please note - the WIS 100 entrance ramp to I-94 West will remain open throughout the work.
To get around the closures, traffic is encouraged to use the following detours:
I-94 East to WIS 100 to Greenfield Avenue to I-41 South
WIS 100 to Bluemound Road to I-41 North or South
WIS 100 to Bluemound Road to 84th Street to I-94 East
Children's is one of the nation's leading pediatric facilities, earning top ratings from U.S. News & World Report and others. We serve children with all types of illnesses, injuries, birth defects and other disorders. The hospital is designated a Magnet hospital by the American Nurses Credentialing Center, a national honor that recognizes nursing excellence.
Children's is a private, independent, not-for-profit hospital. Our academic partner, The Medical College of Wisconsin, brings many of the nation's most well-respected doctors to our team. Together we work to ensure that every child and family we serve receives nothing but the best. We also are affiliated with more than a dozen schools of nursing and a number of other pediatric education programs. A number of other pediatric education programs also are associated with the hospital.
Parking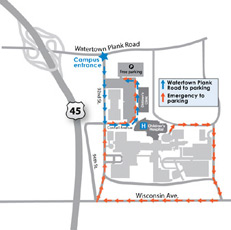 Parking is free for patient families and visitors. Free valet parking is not offered at this time due to COVID.
Families also may park in the visitor parking structure located north of the hospital and clinics building. The skywalk on Level 2 connects the parking structure to the clinics building and the hospital.
Children's emergency room
Preparing to come to the hospital
Bringing your child to the hospital can be stressful. Let us help you prepare and put you and your child at ease.
We want you be comfortable with what to expect when you arrive and what the day surgery area is like:
Getting to Children's by bus
Three Milwaukee County Transit System bus routes (Gold Line, Route 31 and Route 67) serve the Milwaukee Regional Medical Center campus:
Route 31, Route 67 and the Gold Line all make stops on 92nd Street. Use these routes to reach the main hospital or the clinics building.
Route 31 and the Gold Line both make stops on 87th Street near the Eye Institute. Use these routes to reach the emergency department entrance.
For bus schedule and fare information call (414) 344-6711 or visit ridemcts.com.
Note: During construction these bus stops may be moved temporarily.
Clinical research
Children's Research Institute advances state-of-the-art pediatric health care practice through dedicated laboratory and clinical research. The Institute is designed to take clinical problems from patients' bedsides to study in the laboratory. Laboratory discoveries then are converted into new treatments, preventions, therapies and cures for patients.
Report concerns
If you have a concern about patient care, please let us know.
If you have a concern about activities that may involve a violation of law, regulations or policies by our employees, physicians or other individuals associated with our organization, please let us know. These reports are confidential and can be anonymous.