Oral health care for children with special healthcare needs
Oral health is an important part of a child's overall health, growth and development – in fact, every child should have a dental exam before their first birthday.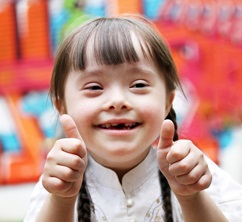 Each developmental stage of life brings a different challenge to oral health. These challenges can be even greater for children with special health care needs. If your child has a developmental disability, physical limitation, complex medical history or a behavioral issue, it is important to find a dentist who can work well with both you and your child.
With over thirty years of experience, Children's Dental Center specializes in providing dental care for children with special needs. Most children can be cared for in our clinic. However, when there are more complex needs, we have the expertise to provide care in an operating room setting through partnership with pediatric anesthesiologists and a dedicated nursing team.
Our specialists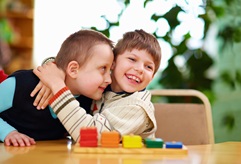 Our pediatric-trained dentists have additional training after dental school on various approaches and techniques to provide a comfortable and calm visit. Their expert care is supported by a dedicated team of dental hygienists and assistants who each play an important role in ensuring you and your child have a positive experience. We work closely with members of the medical team to develop a care plan for your child and ensure past medical history is considered in all treatment decisions.
If you are interested in Children's Dental Center being your child's dental home, please ask your child's doctor to complete a referral to the clinic. We accept new patients under the age of 1 and up to the age of 12 years. As a great number of children seek our expert care, there may be a few weeks wait for an appointment. Don't hesitate to start your child's referral today!