US referrals
Why we measure it - At Children's Wisconsin, our blood and marrow transplant specialists don't settle for standard treatment methods when it comes to treating pediatric cancer, blood disorders and non-malignant diseases. We believe that our patients deserve the most advanced cellular therapies available that yield the best possible outcome. With over 30 years of experience and more than 1,100 transplants to date, we combine our clinical expertise, translational research and passion for quality care to give every child a fighting chance to overcome their disease. Our unwavering commitment to outstanding care and performance excellence makes us a preferred choice for cancer care for families and referring physicians across the nation.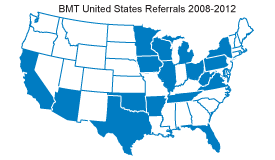 What this means - Many patients and families from outside of the Wisconsin region are choosing our expertise and care.


About the data - As the reputation of Children's continues to expand, this map shows the all of the states where patients and families came from during the time periods of 2008-2012.
Related dimensions of care:




How we provide the best care
Children's was recently named among the nation's best in U.S. News & World Report's Best Children's Hospitals report. We are also ranked among the nation's top 10 programs for Best Cancer Care by Parents magazine.
Our BMT program is recognized internationally for our expertise and success rates using autologous transplants (using the patient's own stem cells) and allogeneic transplants (using stem cells from a donor).
Our specialists use any type of blood stem cell source including unrelated donor cord blood, unrelated marrow and mismatched family members. We are currently one of the largest and most successful programs in the United States that uses unrelated individuals and mismatched family members as donors.
We have five board-certified pediatric hematologist/oncologists dedicated to blood and marrow transplant.
Our BMT Program has been accredited by the Foundation for the Accreditation of Cellular Therapy (FACT) since 2001. This honor is awarded to select hospitals who undergo a rigorous accreditation process to ensure they are providing their patients with the most comprehensive and leading-edge care.
We use specialized methods to treat patients who relapse or do not respond well to standard treatment plans, which includes a reduced intensity transplant (without radiation) for children younger than age 14.
Our doctors accept the most complex and high-risk patients and use advanced technology and therapies to achieve the best possible outcome.
Patient-centered approach
The goal of the program is to provide a bone marrow transplant to any child that needs one.
Our family-centered approach treats each child with sensitivity and compassion. Our program is based on a private practice model working within an academic institution.
Our multidisciplinary team is lead by an attending physician who specializes in blood and marrow transplants. They work with a variety of pediatric specialists based on each child's need. Team members include nurses, pharmacists, pediatric dentists, physical therapists, nutritionists, social workers, child life specialists and psychologists.
A dedicated transplant coordinator works with each patient and family to help them through the entire transplant process. They assist with preparing your child for the transplant and coordinating outpatient care after the transplant.
Our Comfort Zone program focuses on pain management to keep patients as comfortable as possible during their hospital stay.
Our Next Steps Program offers support services for cancer survivors and their families who are facing new challenges transitioning from hospital care to recovering in their own home.
Research
Our specialists stay on the cutting edge of cancer research by partnering with doctors across the country to participate in clinical trials to identify the best and most effective ways to treat childhood diseases.
Our research focuses on developments in immunotherapy, sickle cell disease, pain management, gene therapy, survivorship and late effects, quality of life and outcomes.
Children's is an active member of the Haplo SCD Consortium that provides resources for patients, families and physicians pursuing FHI transplantation for sickle cell disease.
Our blood and marrow transplant program works with the following clinical research groups:
Clinical Trials Network (CTN)
We are currently participating in the following clinical trials which are available in greater detail at www.clinicaltrials.gov:
Contact us
Need more information or an appointment? We're happy to help.
For appointments, contact the individual programs within our MACC Fund Center for Cancer and Blood Disorders.