NICU nurses recognition
When Dylan Collien, age 2½, had his final developmental appointment at Children's Wisconsin and passed with flying colors, it was no surprise to his parents. Dylan is an active toddler who loves to help his mom and dad clean and cook, and adores trucks. "Dylan is perfect," says his mother, Valerie. "He's very busy and inquisitive, always learning."

You'd never guess Dylan spent the first part of his life in the neonatal intensive care unit (NICU) at Children's.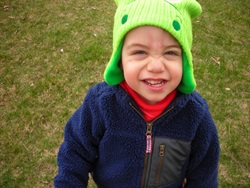 Valerie Collien's pregnancy was right on track when suddenly, ten weeks before her due date, she began having contractions. "I wasn't sure what I was experiencing," she said. "We went to our local hospital on a Sunday, and I was starting to dilate. They told me they were transporting me to Froedtert right away."

The birth center at Froedtert is directly located within Children's Milwaukee, and is connected to its NICU, making the transition from birth to neonatal care immediate and seamless. Valerie's doctors kept her from going into labor for nearly five days, and during that time, Children's neonatologists and other specialists came to Valerie and her husband Kerry to explain everything they needed to know about the NICU. 

"We'd never thought about pre-term birth," said Valerie, "but the doctors and staff kept us informed. They made us comfortable in a situation that's not comfortable."

When Dylan was born, he weighed in at 3 lbs. 15.9 oz., and was immediately transported to the NICU. He was there for six weeks.


Exceptional nursing
Even for a relatively uncomplicated case like Dylan's, care for premature babies involves multiple tests and a good amount of uncertainty. For Valerie, it was nurses like Karli and Sarah who made that difficult time bearable. 

"They gave Dylan exceptional care," she said. "They had such a connection to him."  At times when Valerie and Kerry couldn't be there, the nurses kept them involved. "They would tell us what he was doing with love in their voice. It's a gift they have, not just a job."

Dylan grew and thrived, but it was a long road. "In my mind, it was a miracle," said Valerie. "He's a strong boy, but he also got the very best care."

During those six weeks, Kerry had to go back to work, and Valerie traveled home to Fond du Lac many nights, too. "It's tough to be away from your baby when they're in the NICU. The nurses made it okay for us as parents to step aside for a few moments.
"No stone was unturned, everything that needed to be done was done. It was like having an angel by our side."

Valerie says words can't express how much the Dylan's nursing care meant to their family, but she recently showed her gratitude by nominating Dylan's nurses for a DAISY Award. The Children's award recognizes extraordinary nursing knowledge and compassionate care. 


Meeting every milestone
Dylan received regular follow-up care with developmental specialist Laurel Bear, MD, a pediatric developmental specialist at Children's and a team that includes physical, occupational and speech therapists. "We absolutely loved going to those appointments," said Valerie. "We got great pointers, and learned what to keep an eye out for."

The moment Dylan "tested out" of his developmental program was bittersweet. "Every time we came back to Children's we would think 'this is where it all began,'" said Valerie. "Now I look at him and think there's no stopping him."