Castle.Proxies.HeroBannerViewModelProxy?.GoogleAnalyticsEventAction
Sacral neuromodulation for urinary and/or fecal incontinence
Our team aims provides treatment for urinary and fecal incontinence (or both) to patients in whom other treatment have failed or for those considering an alternative. This treatment is also referred to as sacral neuromodulation.
We are a multidisciplinary team comprised of specialists from urology and gastroenterology, each contributing their unique expertise in providing comprehensive evaluation and treatment for your child. Treatment recommendations are personalized to every patient and may include other options, such as medications or behavioral techniques, which we provide as well.< />
Sacral neuromodulation or (InterStim®) is a promising new therapy for pediatric urinary and fecal incontinence in children when all other treatments have been unsuccessful.
Sacral neuromodulation can also be beneficial children who currently employ a form of colonic irrigation for fecal incontinence or constipation. Successful implantation of the device has resulted in reversal of irrigation channels and an improved self image.
External resources
Get a second opinion
It's important to know what your options are. We can provide expert opinions to verify or give more information about an initial diagnosis. Contact us today.
How sacral neuromodulation transformed Nika's life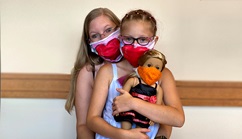 Embarrassing accidents. Social isolation. Constant anxiety and fear. This is what life is like for many kids with uncontrolled bladder and bowel disorders. But thanks to a small electronic device, whose use in kids was pioneered by Dr. Manu Sood and Dr. Hrair-George Mesrobian at Children's Wisconsin, these kids are now able to live life and grow up like any other. Read Nika's sacral neuromodulation story.