Children's Hospital of Wisconsin's 5th annual prom a night to remember
---
As high school prom season was in full swing, teenagers all over Wisconsin and America were able to attend their school's prom and having a great experience they will remember forever. Teenagers who were staying at Children's Wisconsin and some of the outpatients were worried they were going to miss out. But they didn't! They had the opportunity to attend the Children's Wisconsin's 5th annual prom entitled Old Streets of Milwaukee. This year's theme was inspired by The Great Gatsby and the famous era of the Roarin' 20's. It was truly a night to remember!
The afternoon and night activities were in full swing. Patients in the hospital had the opportunity to pick out their prom attire. Long and short dresses, shirts, pants, and ties were located in the Teen Lounge. The lovely ladies from Studio 890  were doing hair, make up and nails for the girl patients. Boy patients got to pick out a shirt and tie and even match their date that they could bring as a guest. The prom attendees were ready for a great evening.
Time to dance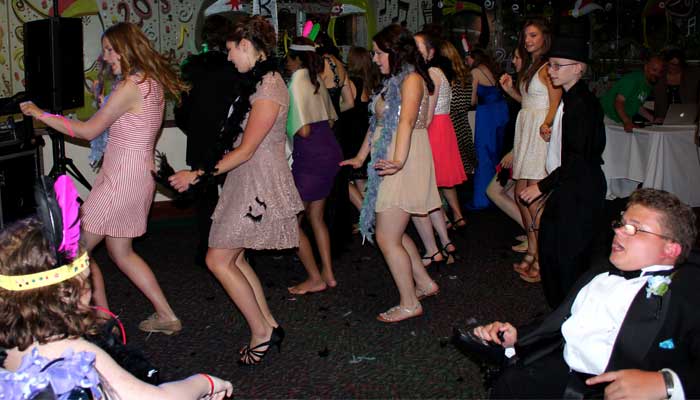 As outpatient guests and inpatient guests started arriving, they were greeted with a rose and a prom t-shirt. They headed down the cafeteria where they received top hats and feather boas. Each prom guest and their date could have their picture taken in front of a very cool Great Gatsby background. Appetizers were served also. Dinner began with bread sticks and salad and then were followed by a great Chicken Parmesan.  The photo booth was great hit too. And then, the dancing started! The DJ did a great job of playing oldies and new songs, and the patients loved the Elvis songs.
As the night came to an end, patients took their boas, hats, blow-up saxophones and pictures home with them so they had a memory of the great prom they just attended. Seeing the patients faces throughout the night put a smile on my face and I know my fellow Teen Advisory Council (TAC)members had smiles on their faces too. I was so blessed to be a part of Children's Wisconsin's annual prom and to enjoy a great evening with the kids. I know that each patient that attended the Old Streets of Milwaukee Prom will remember this night forever.