AFM expected to rise this fall: What parents need to know about this rare pediatric condition
---
Because 2020 has already been so complicated, it should come as no surprise that it is also an "up year" for Acute Flaccid Myelitis, commonly referred to as AFM. Every other year, we see a brief increase in cases of this rare condition, but the cases then subside again after the fall. It often catches the attention of media as it's a mysterious condition and the symptoms can be very serious, but I want to assure parents that as much as you may see news stories about AFM, it is very rare. The Centers for Disease Control and Prevention (CDC) confirmed only 46 cases in 2019 and 238 cases in 2018 (that's for all children and adults).
To help everyone better understand what they're seeing and hearing about AFM, I've outlined the basics and what you need to know as a parent.
What is AFM?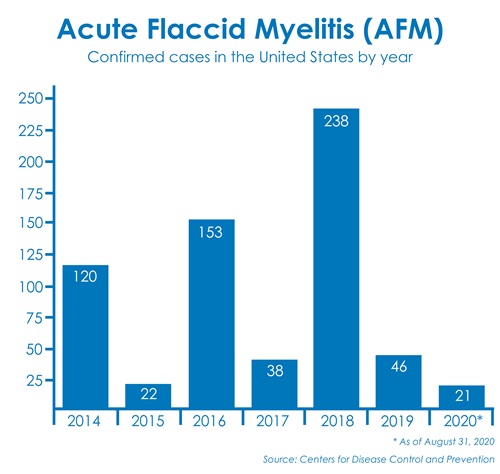 AFM is a neurologic condition that impacts the nervous system and spinal cord. At this time, we do not know for certain what causes AFM, but certain viruses are being investigated as they may play a role. That's because, in most children, AFM develops after a respiratory illness or fever. Because of the nerves that are involved and how they interact with muscles, children with AFM can have difficulty moving their arms or legs, or trouble breathing or swallowing. The movement in their arms or legs may or may not come back without treatment.
Simply put, AFM typically looks like this: A child will be sick with something like the flu and then, all of a sudden, start having weakness in their arms or legs, or even lose the ability to move an arm or leg. They may also have a hard time swallowing or breathing. Although recovery is possible, most kids with AFM do not regain full movement in their arm or leg and will require treatment and/or physical therapy.
What causes AFM?
Every other year, we see more cases of AFM during the summer and fall. We believe that's because after an "up year," children have built up an immunity to the viruses that cause AFM and then that immunity wears off the following year. We also believe that adults have been exposed to enough viruses in their lifetime to have built up a longer-lasting immunity or an ability to fight it off. Kids haven't had those years of exposure and acquired immunity so they are more likely to have a reaction to the viruses that results in AFM. To be clear, this is speculation and is the type of information that is still being researched.
The first known case of AFM was in 2014, and since then, the condition has been considered mysterious because we still don't know all of the details. However, medical teams all over the world are researching AFM to learn more. This includes a team of experts at Children's Wisconsin who are working on ways to quickly recognize AFM with MRI and developing new treatment therapies to help kids recover.
AFM vs. polio
When you hear about AFM in the news, it's often referred to as a "polio-like condition." That's because poliovirus can also impact the spinal cord and cause paralysis. However, AFM patients have all tested negative for poliovirus. AFM is not caused by poliovirus.
How do you treat AFM?
At Children's Wisconsin, we've seen cases of AFM since its emergence in 2014 and because of that, our teams are trained in recognizing and treating it. In fact, a child with AFM needs to be treated at a pediatric hospital like ours because of our team's expertise. We see cases from all over the country and our team collaborates with other health organizations and local hospitals when they have cases and questions.
When a child comes to us with a suspected case of AFM, we first do a physical exam and get an MRI to look at their spine. We'll do a few lab tests and discuss the patient's history. We might also specifically test how the nerves in the arms and legs are working. If we determine the child has a suspected case of AFM, we gather a team to determine next steps based on that child.
Every child is different. Some may need physical or occupational therapy to help with regaining their movement, while others may need surgery 3-6 months after their diagnosis. The surgery is done to repair the nerves that were damaged by AFM and help the child regain strength and movement.
What should parents look for and when should they seek care?
While all of this may sound a bit scary, recognizing AFM as a parent is straight-forward: Look for weak limbs and problems with breathing or swallowing.
These symptoms can progress quickly, even in a matter of a couple hours, so it's important to seek care as soon as possible. You can always call your pediatrician with questions or, if your child is experiencing the symptoms above, bring your child into our Emergency Department. Our team will help you determine if further care is needed.
With the COVID-19 pandemic, we understand that some parents and kids may be anxious about going to the doctor's office or coming to our Emergency Department. Know that when your kid needs medical care — be it at a primary care office, our operating room or anywhere in between —we take many steps to ensure a clean and safe environment.
Please do not hesitate to call your child's doctor's office, use MyChart messaging or call your clinic with any questions or concerns. If they don't have a doctor, call 2-1-1 and an operator can direct you to the nearest community health clinic or other needed resources.