Patient Stories
Jan 09, 2023
Healthy Start Program helps local artist build her confidence
---
Ellia Ana Hill has always loved art. She attended the Milwaukee Institute of Art and Design and has shown and sold her cut paper art and jewelry at local shows, galleries and in her Etsy shop (greenbeanbaby). She has even illustrated projects for Hasbro, Netflix and Disney. 
But as her family grew, it became harder to find time to devote to her art. Ellia is a mom of six busy kids ages 18, 15, 8, 6, 4, and 22 months. Caring for all of her children and their emotional and physical needs along with their daily schedules can be more than challenging. There were many times when she put herself and her own needs last. 
"With such a big family, I just didn't have much alone time to explore long-term projects," she said.
After her fourth child was born, Ellia had postpartum anxiety and depression, and experienced her first panic attack. She felt overwhelmed.  "I definitely was having some anxiety juggling so many different humans with different personalities," said Ellia. "The hormones and back-to-back pregnancies — plus the demands of nursing — also contributed." 
Ellia called around to local moms' support groups looking for mental health support. It was then that she first learned about Milwaukee County Healthy Start. 
Getting the support she needed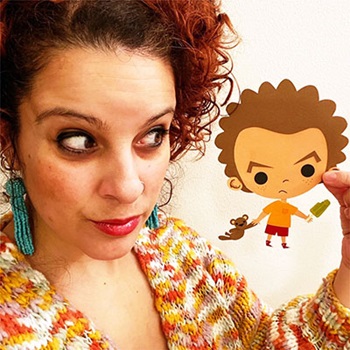 Children's Wisconsin is a community partner of the Milwaukee County Healthy Start Program along with the City of Milwaukee Health Department, Black Child Development Institute, Easter Seals of Southeast Wisconsin, Chorus Community Health Plans and Genesis Health Consulting. The Milwaukee County Healthy Start program works to eliminate prenatal health disparities for African American women, their children and male partners in Milwaukee County — although Healthy Start serves everyone regardless of racial identity. Women who are pregnant, thinking about becoming pregnant, parenting an infant younger than 18 months or a father of a child younger than 18 months are eligible to participate. Healthy Start can provide connections to preventive services, health insurance, prenatal and medical care, mental and behavioral health, baby care basics, parenting resources, housing, safety, transportation and employment. All services are offered free of charge.
Ellia enrolled and was soon contacted by Tina Klos, a Healthy Start maternal child health navigator. Tina and Ellia began to meet often, and they used their time together to talk about what was happening in Ellia's life, how to manage the highs and lows of parenting, and how to find ways to make time for herself and her art. Through support and listening, Tina helped Ellia rebuild her confidence and self-esteem. They worked on strategies for Ellia to keep her own well-being and passion for art in focus, despite her busy family life. 
"I am Puerto Rican, and my husband is African American," said Ellia. "Reaching out to Healthy Start was a big step. In our cultures, we don't often talk about mental health or ask for help. I wanted to break out of that traditional norm, and am so glad I took that step."
By the time Ellia's sixth child was born in 2021, she had the support and tools to better cope with those early days with a newborn. She did not have postpartum depression this time around, and she credits Healthy Start for supporting her in that journey. 
"Knowing I had Tina to talk to without judgment was incredibly helpful," said Ellia. She also was connected to an online art therapy group through Healthy Start. "Especially during the pandemic, it was nice to be able to meet with other moms in similar situations."
Becoming published
Last spring, a well-known bilingual publisher contacted Ellia to see if she would be interested in illustrating some books. In their conversations, they asked her if she happened to have any story ideas or manuscripts. Ellia had always dreamt about writing and illustrating a children's book, and wrote ideas down in a journal as they came to her. So when asked, Ellia quickly grabbed her journal of story ideas and jumped at the chance to pitch them. 
Ellia had drafted a story about her fourth child called The No Boy (El niño que dice NO). Her son always said "no," even when he meant yes.
He simply didn't know how to describe his emotions. In the book, the mom asks the boy a series of questions. "Are you hungry?" "No." She then gives the boy a popsicle and he eats it. She asks the boy, "Are you sad?" And, even though he is visibly upset, he replies "No." As the story unfolds, his mom encourages the little boy to learn how to more openly express and navigate his emotions.
The publisher, Lil' Libros, loved the idea, and in a few short months, Ellia had completed writing and illustrating the book. The No Boy (El niño que dice NO) is available at Target online, Barnes and Noble, Amazon and Lil' Libros. The large-sized board book for kids ages 0-5 is in both English and Spanish.
"The fact that it is bilingual means it can reach my community too," said Ellia.
"Ellia is such a great example of someone not giving up on their hopes and dreams," said Tina. "She is also one example of how the Healthy Start program can help support pregnant people, and new moms and dads. It's so important to reach out when you need help, and I'm so thankful Ellia connected with us."
With the launch of The No Boy (El niño que dice NO) and more books on the horizon, Ellia is filled with gratitude and excitement. "Healthy Start helped boost my confidence, and I am thankful for all of the support," said Ellia. "This is all such a huge blessing."
This project is supported by the Health Resources and Services Administration (HRSA) of the U.S. Department of Health and Human Services (HHS) under the Healthy Start Initiative. This information or content and conclusions are those of the author and should not be construed as the official position or policy of, nor should any endorsements be inferred by HRSA, HHS or the U.S. Government.